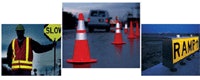 Omni-Brite is a flexible microprismatic material designed for use on safety vests and other garments. It offers high levels of reflectivity no matter which way people turn, twist or bend — even in all wet weather conditions. Omni-Brite is machine washable and has been certified to meet or exceed many industry standards.
Omni-Brite S-9000C is the sister product to S-9000 and is a flexible, microprismatic material suitable for conversion into cone collars and similar products.
6600 Translucent Reflective Sheeting is engineered for all back-lit signing applications including airport runway signs or emergency exit signs where loss of internal illumination could be fatal.