Fixing a Hole
A tiny Arkansas town gets ready for a flash flood
Small towns can face the same big problems as big towns when it comes to stormwater infrastructure. This one faced an essential emergency culvert repair without a lot of reserve funding waiting at the bank.
They didn't fund their way out it; they thought their way out of it. Three days before a flash flood.
When a large sinkhole developed down the side of the main thoroughfare in the town of Garner (pop.284), in central Arkansas, some quick decisions had to be made, especially when it was discovered that the drainage pipes installed more than 30 years ago were completely rotted.
"You could see down about 3 feet into that sinkhole," Arnold Sewell, the mayor of Garner, Ark., tells Better Roads.
A patch was made over the two culverts where the hole was on this south main highway, Sewell says. "But once we got started, [we discovered] there was a bigger hole in the side [of the pipes] than anticipated. The road has four culverts about 50 yards apart. The second set of culverts, where the water main is, has a concrete bridge over them. "These were completely washed out inside," Sewell says. In fact, the pipes were so eroded they backed up water, always sending typical drainage into the overflow culvert that was supposed to be reserved for emergency stormwater.
The "usual" solution may not be the best
Completely replacing the pipes was going to be very difficult for the small community. The town could dig and replace the pipes, but money wasn't available. Plus, doing a complete replacement would mean closing down the road. There are a number of school buses that travel that road each day, and closure would mean rerouting them 10 to 12 miles out of the way, Sewell says.
A secondary road could be used, but 18 wheelers can't use that road.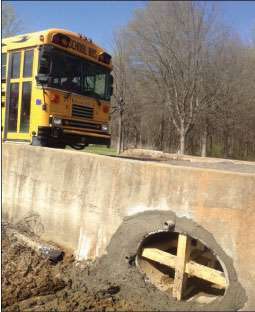 But with an already-sinking roadbed, something needed to be done, and done quickly. That's when Sewell discovered an alternate solution – simply relining the pipes.
The culvert reline method cost-estimate was 40-percent less than the cost of digging and replacing the pipe – based on the initial quote. Overall, by relining the bad pipe instead of digging it up and replacing it, this saved money and did not have to shut down a main road. Sewell says it would have cost $68,000 to dig out the pipes. "That is for demolition of the culverts and replacing the galvanization," Sewell says. "The head bowl, which was about 4 feet tall and about 20 feet, need to be replaced. Plus, if you add in the engineering feel, it would have been around $75,000."
Replacing only the liner pipe cost the cash-strapped town about $46,000. When engineering fees are figured in, Sewell says, the city saved about $27,000. "We've been asking for donations," he says. "You can fill out for a grant, but it could take a year. The road would be gone by then and it doesn't do you any good."
The relining of the culverts was completed this spring. Snap-Tite/ISCO Industries supplied the high-density polyethylene (HDPE) pipe liner, with Baldwin Construction serving as the contractor on the project.
Just three days after the project was completed, flash floods slammed into Garner and its surrounding community. There was tremendous rainfall, but in addition to local floodwater, came water from an upper community.
"It came down pretty quick and increased our water flow," Sewell says. However, the relined pipes were able to handle the water, and Sewell says, it "made a big difference knowing that the road was safe. If the water would have stayed in the pipes or backed up and we had a lot of heavy traffic, who knows what would have happened," says a relived mayor.
Sewell says the project highlighted the vital need to have funding available for infrastructure. Garner, he says, was able to fund this emergency work with donations and cashing in some bonds, but the current uncertainty without a reauthorization of SAFETEA-LU is making it difficult to keep up roads. "You have to have a road to drive," Sewell says. "We really need to get this highway bill passed or we're go have to go back to gravel roads."
Take the Rains
Be an APWA-certified stormwater manager
The American Public Works Association (APWA) has developed the Certified Stormwater Manager (CSM) credential program to promote excellence and commitment to public service by advancing the knowledge and practice of stormwater management to benefit the community, public agencies and the profession.
The certification is intended for water experts in both the public and private sectors who coordinate and implement stormwater management programs for city, county, state, provincial, and federal agencies.
These are the men and women that assist in administering drainage, flood control, and water quality programs and may also be involved in budgetary oversight, long-term planning, policy development, and other administrative activities. Since its inception, the APWA CSM program has certified 67 stormwater managers in North America.
The certification serves as a "hallmark of excellence" for U.S. and Canadian water experts in public works. The program highlights the CSMs' professional expertise and their dedication to advancing water quality programs and services in their community, which include state and federal requirements related to stormwater runoff including management of public education, illicit discharges, erosion control, post-development runoff BMPs, system maintenance, water quality monitoring, data analysis, and reporting, as well as drainage and flood control, notes APWA Executive Director Peter B. King.
The APWA Stormwater Manager Certification program is conducting computer-based testing and is now available at more than 170 sites in the United States and Canada. Computer-based testing cuts costs by lowering travel and accommodation costs for applicants and minimizes time away from work. It also gives candidates more chance to take the exam – rather than being locked into a specific date they can choose a date and time within a two-week testing block. And results are immediate rather than taking up to two months to hit your mailbox.
For details type "CSM" into the search box at www.apwa.net
The curriculum for the Certified Stormwater Manager (CSM) designation includes the following:
PROGRAM MANAGEMENT:
• Overall storm management
• Program administration
• Communication/Education
• Planning and design
WATER QUALITY and QUANTITY:
• Regulatory programs
• Structural best management practices
• Hydrology and hydraulics
OPERATIONS and MAINTENANCE