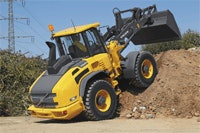 Loaded with potential, the L45G and L50G wheel loaders from Volvo Construction Equipment are in the 9 – 10 ton machine weight class — but with the versatility and performance of much larger models.
They may be at the smaller end of the Volvo Construction Equipment wheel loader range, but even with their compact design, the new L45G and L50G are big when it comes to application potential. With the flexibility to work in a wide range of jobsites, these machines are fitted with a hydraulic attachment bracket for quick tool changeovers.
The L45G and L50G feature the latest emissions-compliant engines and Volvo patented TP Linkage, ensuring high breakout force and parallel movement throughout the entire lifting range. This combination gives high tilt-back torque and lifting power, increasing productivity when loading or rehandling. The progressive lift helps retain loose bucket material and minimizes disturbing the load when lifting pallets. The breakout torque is also useful if a log grapple is fitted, giving complete load control in all positions. The combination of stable load and high-reach linkage design allows for dumping into high-sided trucks.
The L45G and L50G feature the modern stylistic redesign of the G-Series range. Smaller in size than many competitor machines, these models' compact dimensions come from the shorter frame as a result of the transversely mounted engine. This combination allows high maneuverability in restricted work areas.
Higher torque with lower emissions
These new machines meet the requirements of the Tier 4 interim (Tier 4i) emissions legislation. The L45G and L50G are fitted with the Volvo D4 four-cylinder turbocharged off-highway diesel engine, which features cooled gas recirculation and a particulate filter with active regeneration. The diesel particulate filter (DPF) temporarily holds the particulate matter and then incinerates it, further reducing emissions. This process is conducted without any loss of performance during operation.
Producing between 98 – 114 horsepower (73 – 85 kW) the D4 engine also leads the industry in terms of fuel efficiency, reliability and quietness. The production of torque and power at low engine speeds, combined with load-sensing hydraulics, promotes work at a lower rpm — extending engine life, lowering fuel use, and reducing noise. The engine cooling fan allows the engine to reach optimum working temperature faster and operates only when needed. The fan is also reversible, automatically blowing air back through the cooling pack in order to remove debris drawn into the radiator.
Engine and drivetrain — better together
The engine drivetrain, axles, hydraulics, and lifting systems are all designed for improved productivity, higher rim pull, lower emissions, greater smoothness, serviceability, and operator comfort. Both the L45G and L50G come with an infinitely variable hydrostatic transmission. Maximum rim pull is available at all speeds, regardless of travel direction.
For work in wet and/or heavy conditions, 100 percent differential locks in the heavy-duty axles allow all wheels to turn simultaneously. The rear axle is allowed to oscillate, increasing stability of the machine by maintaining ground contact and providing optimum traction in difficult terrain.
Load-sensing hydraulics deliver power to hydraulic functions only when needed, eliminating unnecessary oil pumping. Maintaining the optimum balance between lifting and traction forces allows effective bucket penetration when digging or pushing into a pile. The smooth and precise pilot-operated hydraulics enable the operator to comfortably control the attachment — resulting in higher productivity and comfort.
High productivity with low stress
The latest generation Volvo cab fitted to the L45G and L50G extends its already legendary status. ROPS/FOPS approved, visibility to the rear of the machine, to the bucket edge, and to the centrally located instrumentation is excellent. Mounted on viscous dampers, operators are isolated from vibration and excessive noise, significantly reducing fatigue levels.
Operators can breathe easily, thanks to efficient air-management and filtering systems — and take on the job in a comfortable, clean work environment. Depending on preference, operators can choose between joystick and multi-lever hydraulic pilot control — both providing precise and steady load. To encourage operators to work smoothly an eco pedal applies an appropriate amount of mechanical back-pressure, encouraging low fuel consumption operating techniques.
Fuel use is also reduced, thanks to a load-sensing steering system that only activates when the wheel is turned. An inch brake pedal allows further machine control. Applying light pressure on the pedal slows the machine using the hydraulic transmission only, while firmer pressure engages the axle brakes, which can be useful if working on an incline.
Getting attached to the L45G and L50G
Flexibility is a key feature of these two wheel loaders, and it's enhanced by an attachment bracket that enables quick tool changes. ISO standardized, the bracket allows the operator to clearly see the attachment points from the cab, and the variety of Volvo attachments available is extensive. All are designed and approved by Volvo to work in harmony with the machines' link-arm geometry, breakout, rim pull, and lifting forces. Tools include buckets, pallet forks, grapples, etc.
Servicing and support
The G-Series comes with advanced electronic monitoring diagnostics that are designed to prolong machine life, enhance uptime, and maximize productivity. Contronics monitors functions in real time and alerts the operator if problems occur. MATRIS charts and analyzes data on machine handling and operation. VCADS Pro is a service tool that allows easy troubleshooting. The CareTrack telematics system from Volvo Construction Equipment enables operators and owners to know exact machine location and all operating data to be securely viewed via the Internet; providing all the information needed to make quick business decisions on operation, maintenance, and repairs.
Servicing is made easy with the G-Series, with daily pre-start items quickly checked, and scheduled service items conveniently grouped together. The engine cover also provides good ventilation of the engine compartment. It gives quick access for easy cleaning or servicing duties. And consumables, such as filters, are easy to reach and easy to replace. The rear axles are supported on maintenance-free cradles and include greased-for-life bearings and bushings that reduce service requirements.