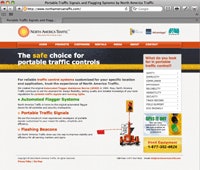 London, ON – A new website for North America Traffic, the Ontario-based manufacturer of portable traffic signal and flagging equipment, succeeded in stopping judges in their tracks for the 2012 Summit Creative Awards.
The website at https://www.northamericatraffic.com/ earned medal honours in the business-to-business (B2B) category of Summit's annual creative communications competition. The project was entered by the firm retained by North America Traffic to develop it, Marketing Strategies & Solutions, a full service communications firm in London, Ontario that specializes in business-to-business marketing programs.
Robert Adeland, President of Marketing Strategies & Solutions, said that his team's focus on the types of visitors to the website is a key to its success with B2B websites. "We build from the standpoint of how customers buy, not necessarily how the client wants to sell," he explains. "North America Traffic appreciated that customer-first concept, as well as our ability to develop and write all the content they needed to deliver on the design."
The President and Founder of North America Traffic, Peter Vieveen, expressed his appreciation to Adeland's firm. "As a relatively small manufacturer, we needed service from a group that would take the time to fully understand our business and deliver a complete turnkey solution. Robert and his team came through with a solution that made the transition to our new website simple and seamless for my staff."
An international competition of small to medium-sized advertising agencies, the Summit Creative Awards recognizes the achievement of creative excellence with limited resources. Now in its 18th year, the program attracted thousands of entries from 22 different countries.