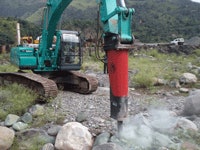 The Chicago Pneumatic RX Hydraulic Breaker line offers 13 models, which are designed to match various application needs found in demolition, primary/secondary breaking, trenching and foundation work, recycling, road construction, and landscaping.
With a service weight of 200 lb (94 kg), the RX 2 breaker fits carrier classes with weights ranging from 2,000 to 7,000 lb (1 to 3 metric ton). On the top end, with a service weight of 9,000 lb (4,200 kg) the RX 53 is appropriate for carriers in the 88,000 to 154,000 lb (40 to 70 metric ton) weight class. RX Hydraulic Breakers feature an established hybrid gas/oil technology and are engineered with fewer components and working parts to maintain than competing models.
The CP Power Boost feature on the RX models is designed to achieve greater breaking performance in tough applications without requiring additional hydraulic input. While the impact energy remains constant, the breaker increases the impact rate, resulting in enhanced percussive performance. The Power Stop function found on models RX 14 and up eliminates blank firing, and is designed to reduce wear on the breaker and carrier while increasing the working life of the components.
The larger models in the Chicago Pneumatic RX line, RX 25 through RX 53, feature a power control valve, which enables the operator to adjust the breaker's performance according to the application. The RX 25 through RX 53 models also feature a fastening system and an insert thread system that ensure a long working lifetime and improved load distribution at the tap hole.
The RX line also features advanced noise and vibration damping technology. With the RX recoil absorbing system and insulated breaker boxes, the RX series of breakers are some of the quietest breakers on the market.
Optional equipment is available for breakers in the RX 14 to RX 53 range, including CP Lube, an automatic lubrication system for extended lifetime of the bushing and working tool, and an HD Kit (Heavy Duty Kit), which protects the box when the breaker is used in abrasive material.