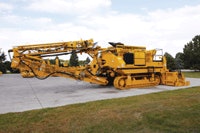 The GOMACO 9500 is the world's most versatile material handling machine and provides multi-applications as a trimmer, concrete and asphalt placer, and a shoulder trimmer.
It is now available with an optional hydraulically-folding rear conveyor belt for improved transportability. The new option allows the conveyor to remain attached to the 9500 during shipping. The 9500's shipping length with the new folding rear conveyor is just 41.8 feet (12.7 m). Shipping height is 11.5 feet (3.5 m).
The new option is the direct result of a contractor approaching GOMACO with a specific request. As part of the conveyor frame redesign process, GOMACO engineers rebuilt the 9500's conveyor to be stronger and more rigid with a truss-style framework.
The switch to control the hydraulically-folding rear conveyor can be placed at different locations on the back of the machine, which allows ultimate operator visibility and safe operation. The belt width is still 36 inches (914 mm) and the rear conveyor maintains its 160 degree swing with hydraulic height adjustment up to 12 feet (3.7 m). It has a 34.7 feet (10.6 m) long reach during machine operation, with a conveyor belt speed of 504 feet per minute (153.6 mpm) allowing fast placing of concrete or removal of trimmed material.
The two-track 9500 with front-mounted trimmerhead offers several advantages for contractors. The front-mounted trimmer allows trimming to the end of each pass or within inches of front obstacles. The powerful single-drive, hydrostatic motor offers ultimate production. Contractors save time and labor with fewer connections and parts due to the single-drive motor. Time savings are also accomplished with the 9500's quick-detach trimmerhead with machine-mounted pick-up arms. These features allow the trimmerhead to be quickly and easily loaded on the truck for transporting.
The 9500 has trimmer load control which controls the travel speed for optimum power to the trimmerhead. The steady, easily controlled travel speed guarantees accurate trimming and job-site mobility. Maneuvering around a job site can be difficult and conditions can create extra challenges. The 9500 was designed to beat those challenges. It can make a 360 degree turn within its own length for maximum maneuverability. The 9500 is user-friendly and operator safe with an operator's station that is efficient and allows visibility over the entire operation. The 9500 features a remote control handset, emergency stop buttons located on strategic areas of the machine, a back-up alarm, an alarm for conveyor swing, and a rotating beacon on the rear conveyor.
GOMACO Corporation is the worldwide leader in concrete construction equipment with headquarters in Ida Grove, Iowa. GOMACO equipment will slipform concrete streets and highways, airport runways, curb and gutter, sidewalks and recreational trails, safety barrier, bridge parapet, and irrigation canals. Support equipment includes grade trimmers, concrete placers, concrete placer/spreaders, and texturing and curing machines. The company also offers equipment to finish flat slabs, bridges, and slopes. GOMACO will consult on equipment for large or unique concrete paving projects. Products are offered through a worldwide distributor network for local sales, parts, and service expertise.