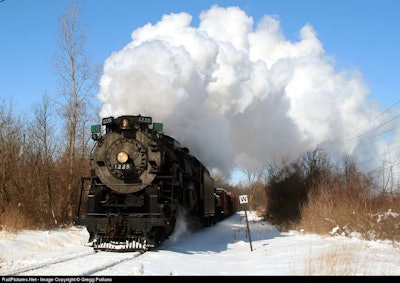 The steam locomotive that inspired the train in the 2004 Warner Brothers film The Polar Express is back on the tracks.
The train, known as the Pere Marquette 1225 Locomotive, is now back on the tracks after a federally-mandated four-year rebuild.
The 72-year-old 2-4-8 Berkshire locomotive is 16 feet tall and 101 feet long with a combined engine and tender, and it weighs 400 tons.
It has a two-wheel pony truck at the front to guide the eight large wheels into curves, as well as a four-wheel trailing truck to support the weight of the boiler's fire box. The Pere Marquette 1225 produces 3,000 horsepower and has pulled up to 60 freight cars between Michigan factories and northern Indiana steel mills to support the war effort.
The train holds 22 tons of coal and 22,000 gallons of water. It uses one ton of coal for every 12 miles it travels.
According to the Steam Railroading Institute, the creators of The Polar Express used the locomotive's blueprints to create the image of the train and recorded the its sounds for use in the film.
It's also worth noting that the engine's number, 1225, reflects the date of Christmas.
The Pere Marquette 1225 Locomotive made its debut last month and is now on display at the Steam Railroading Institute in Owosso, Michigan. Train rides on the "North Pole Express" are also available.
Be sure to check out the gallery below to see more photos of the 1225 engine.
For more details about the Pere Marquette 1225 Locomotive, visit michigansteamtrain.com.
All photos via the Steam Railroading Institute.