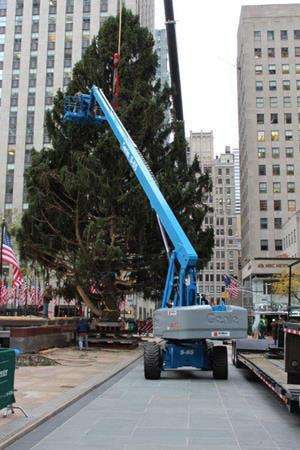 A Genie S-85 telescopic boom aided in the installation of the Rockefeller Christmas tree earlier this month.
The lift, provided by Genie dealer Tri Lift, allowed the rigging crew to place the necessary guy wires after a large crane raised the 76-foot Norway spruce on November 8. The guy wires support the 12-ton tree.
Tri Lift rental manager Mike Degennaro said another branch got his team involved.
"As a company, we've been doing regular business with Tishman Speyer, the New York City building management giant, since about 2001," he said. "They called into our Farmingdale (New York) branch on Long Island looking for an 85-foot boom to assist in the tree erection process and, since we provide the aerial units for them, it got turned over to us."
Degennaro noted that the unit had to leave Tri Lift's yard in Connecticut at 3:30 a.m. the morning of the installation so it could arrive in Rockefeller Plaza by 5:30 a.m. The driver had to wait for the crews to finish installing the tree, then immediately drive the lift back to Connecticut.
"It was certainly not one of our standard rentals, but it was a great opportunity for us to be a part of something so high-profile and meaningful to people here and throughout the country," Degennaro said.
He added that the tree raising was streamed live on a New York City television station's website so, everyone at Tri Lift spent most of the day in their offices with the live stream in a corner of their computers.
"It made us all feel like we were really a part of it all," Degennaro said.