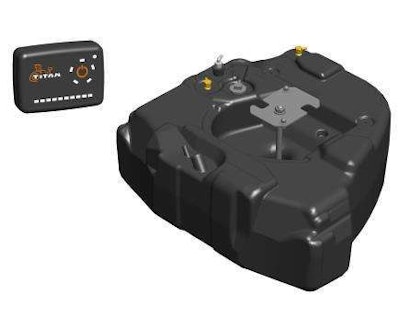 Titan Fuel Tanks will unveil its cross-linked polyethylene, Spare Tire Auxiliary Fuel System at the 2013 SEMA Show in Las Vegas, Nevada, this week.
Titan will feature the 30-gallon tank and fuel transfer control unit at booth 35111 in the Upper South Hall of the Las Vegas Convention Center.
The tank fits in the space often used to stow the spare tire, doubling the fuel capacity of most pickups. Designed to fit most American-made diesel pickup trucks manufactured after 1999, the system's underbody placement prevents it from impacting the truck bed's storage capacity.
The Spare Tire Auxiliary Fuel System is made of military-grade cross-linked polyethylene (XLHDPE), making the tank resistant to corrosion, 200 times less thermal conductive than steel and free of condensation.
All components come in a standardized package, so the 30-pound tank can be easily installed by one person.
The system includes mounting hardware, a universal filler kit with a brushed aluminum door that can be installed on the vehicle's exterior sidewall or on an inside wall of the truck bed, an electronic fuel transfer control unit that can be operated from inside the cab, a rollover vent valve and a vent hose.