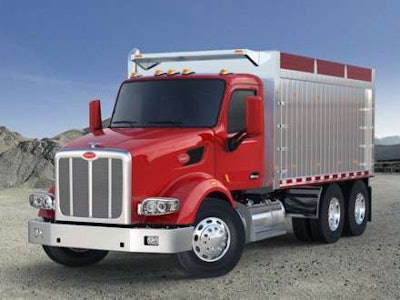 Peterbilt Motors Company is showcasing it new all-purpose vocational Model 567 at its outdoor display during the 2013 International Construction & Utility Equipment Exposition (ICUEE) in Louisville, Kentucky, October 1-3.
The Model 567 is on display in a dump configuration at N1032.
The Model 567, Peterbilt's newest vocational truck, is designed to be long-lasting, rugged and versatile enough to handle nearly any job.
A Paccar MX-13 engine powers the truck, delivering 500 horsepower and 1,850 pound-feet of torque.
The truck is available in a set-back front axle configuration as will as with steer axle ratings up to 22,000 pounds. The 567 is also offered with single, tandem or tridem drive axles and a variety of lift axles.
The 567 features a sloped hood and large, one-piece windshield for high visibility. The durable, corrosion-resistant pod-mounted lamps have projector module low beam and halogen reflector high beam.
The truck's lightweight Metton hood can withstand harsh impacts and opens 90 degrees for easy access to key service points.
The aluminum cab, designed to be long-lasting and rugged, meets severe-service requirements. In-cab features include a fully adjustable steering column, spacious leg room, a multi-functional steering wheel, and backlit switches.
Available with a 115- or 121-inch BBC, the 567 is offered as a day cab or with a detachable sleeper.
Sleepers are available in 80-, 72- and 44-inch lengths and are offered in three trim levels.
In addition to the Model 567, Peterbilt is displaying the following vehicles:
Model 365 equipped with a Terex TM125 aerial bucket

Model 388 tractor installed with a Custom Truck and Equipment grappler

Model 337 Class 7 truck with an Altec DM47 digger/derrick body

Model 337 Class 7 in a 4×4 configuration with a Curry service body