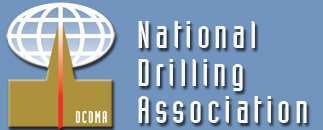 The National Drilling Association will host its Annual Convention from October 17-19 at the Wyndham Lake Buena Vista Resort in Lake Buena Vista, Florida.
Tim Connor, management and leadership speaker, trainer and international best-selling author of more than 80 books, will present the keynote address, "The Critical Basics that Every Manager/Supervisor Must Understand, Embrace and Implement."
Other presentation topics include:
"Drilling in a Karst Environment," presented by Larry Madrid, PE at Madrid Engineering

"Geophysics Relationship with Drilling," presented by Mr. Mike Wightman, president of Geoview

"Equipment Appraisals and Business Appraisals – What They Are, What They Mean, What to Do with Them," presented by Michael A. Salvadore, Jr., SPA, MPPA, president of Salvadore Auctions

"Drilling and Production Thread Compounds," presented by Joe Large of Jet-Lube

"Geotechnical Uncertainty – Magnifying Profits in Foundations Design," presented by W. Ray Wood, executive vice president of Fugro Consultants, Atlantic Division

"New Revenue Streams for Drillers," presented by Bill Dahl of Emagineered Solutions

"Okeechobee Project," presented by Jim Hussin, director of Hayward Baker

"Safety," presented by Rick Hutchings, CME

"Hurricane Deck Project," presented by Chuck Valenta of Terracon
The convention will also feature educational and networking sessions; a President's Dinner with awards, entertainment and prizes at the hotel; and a golf outing at Disney's Lake Buena Vista Golf Course. Disney discounts are available.
Attendees will have the chance to earn 8 Professional Development Hours (PDHs).
For more information, or to register, visit nda4u.com.