By Marcia Gruver Doyle, mgruver@randallreilly.com
Balmy weather helped give bauma, the world's largest construction equipment show, a massive shot in the arm. A record 530,000 visitors from more than 200 countries made it to the Munich, Germany, show in mid April. Here's a brief look at some of the major equipment introductions:
(Note: Some models may not be immediately available in North America.)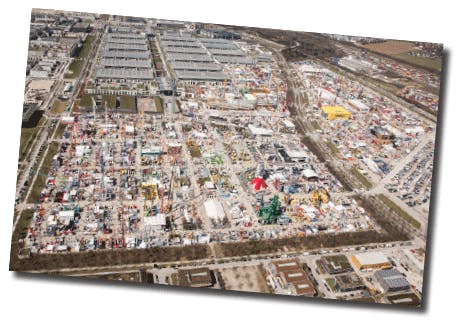 The Wirtgen AutoPilot Field Rover (winner of one of bauma's six Innovation Awards) consists of a computer integrated into the paver, GPS receivers mounted on the machine and a control panel. The receivers communicate with a GPS reference station on the jobsite. After the site is measured and staked out, the Field Rover plots the optimum course for the paver, creating a virtual stringline. The course data is entered onto a thumbdrive, which is inserted into the machine's control panel. The paver adjusts its position and paving heights to match the data from the thumbdrive.
Fighting in the 45-ton weight class, the LiuGong Model 945E excavator is the largest in the company's lineup, designed to give them a competitive machine in the high-production construction, quarry and aggregates market. The 945E features a 328-horsepower Cummins engine and a 2.2-cubic-meter bucket. In addition, the company's 375B radial lift skid-steer sports curved cab glass for a wider, less obstructed view of the jobsite. It has a dump height of 87 inches and a 60- horsepower Perkins engine. Double lever pilot control and a hydrostatic transmission with infinite speed control, enable operators to crawl slowly over challenging sites.
Liebherr's R9XX excavator prototype heats up hybrid race. While emphasizing that it was only a prototype, Liebherr displayed its R 9XX concept electric hybrid excavator at the show.
Liebherr's entry in this increasingly popular category employs an electric hybrid driveline in a 40-ton excavator with a downsized engine. The R 9XX draws its main power from a standard diesel engine but also uses the engine to pump surplus energy to an electric storage device known as supercaps and a hydraulic pressure accumulator. Braking energy is converted to electrical energy and stored in the supercaps to drive the fully electric slew drive.
According to the company, the hybrid system on the R 9XX can supply short-term peak power at up to twice the rated output of the diesel engine.
The company has not said if or when the R 9XX will become an available as a production model.
Eaton's LifeSense hydraulic hose monitoring system is now available in a wireless version. LifeSense, which has been available in a wired version since 2011, uses a sensor to monitor the life of individual hydraulic hoses. Each sensor sends electronic signals that are run against a hose diagnostic unit, detecting failure-related events within a hose. Each hose can be monitored, and replaced only when it is truly at the end of its life. The wireless system can measure up to 100 hoses, and transmits data once every seven hours.
The compact Atlas Copco SB 702 breaker has a solid one-piece housing body. Both the percussion mechanism and guide system are integrated into a single block of steel, and the accumulator is well projected from jobsite knocks. Capable of being installed on a wide range of carriers, the unit has a wide flow range. Stress and wear on the working tools is minimized by double tool retainer bars.
JCB's JS220 Tier 4 Interim excavator is the company's first heavy model powered by the company's 4.8-liter Ecomax engine, which does not require any after-treatment. The 172-horsepower excavator has a standard 7-inch LCD color monitor, a 10-percent improvement in fuel economy and offers lower cab noise levels.
Reaching up to 180 feet, the new Genie SX-180 self propelled telescopic boom lift offers an 80-foot horizontal reach and a 3-foot platform that can hold up to 750 pounds. The 10-foot jib rotates 180 degrees. The SX-180 can be driven at full height and the X-chassis extends and retracts to provide work stability and a low transport profile.
The 2.1 version of Trimble's 3D PCS900 paving control system helps contractors mill smooth, high quality surfaces. Combined with the SPS930 Universal Total System, the system minimizes machine stops and aids milling job continuity and accuracy. The PCS900 guides the milling drum to maintain grade, and the SPS930 automatically transitions to the next total station without the stop required by a manual transition. The system is portable, so it can be used on several machines and jobsites.
Bosch Rexroth's electrohydraulic pump control system uses "virtual bleed off" technology, or VBO. The new pump control system pumps only the amount of oil needed and combines lower fuel consumption with fast response times and dynamic system stability. The company also introduced its hydraulic start/stop solution. This system uses variable valve pumps and accumulators to store and release energy to hydrostatic drives and hybrid systems. The energy storage systems can reduce fuel consumption in machines or applications with high idle times. If no energy is required for the machine's driving or working functions the engine automatically shuts off, if it has stored enough energy for a hydraulic restart.
Wirtgen has combined the basic design of a concrete/asphalt milling drum with a vibrating roller studded with carbide tipped teeth to create the Hamm H25i VC crusher drum that destroys the material underfoot while on the move. Applications for this hybrid technology include breaking or pre-crushing rock, breaking up concrete road surfaces, crushing and compacting mixed soils, compacting cohesive soils and compacting during cold recycling and stabilization. The drum is expected to be available in North America this fall.
With a 43-foot maximum platform height, the Snorkel S4309RT has twin 51-inch deck extensions, providing a total 6-by-21-foot-8-inch working area. The machine is capable of lifting 1,500 pounds.
Ditch Witch's JT60 all-terrain horizontal directional drill will get a North American reveal at ICUEE this fall in Louisville. The drill features what Ditch Witch calls an "industry-exclusive, patented two-pipe drilling system." Powered by a 200-horsepower Cummins Tier 4 Interim engine, the drill has 60,000 pounds of thrust and pullback and 9,000 pounds of rotational torque. A dual-pivot drill frame allows multiple, stable entry angles.
The R2 hydromechanical variable transmission from the Dana Rexroth joint venture promises to increase machine fuel efficiency up to 25 percent compared to similar machines with torque converters. The R2 is a modular platform with software controls that enable direct or remote mounting, flexibility in shift control and drive strategy parameters, and the deployment of up to three PTO. The R2 system is designed to reduce ownership and operating costs, particularly for front-end loaders, motor graders and other off-highway applications requiring 180 to 260 horsepower.
SAY WHAT?
"We're not going to toll our way to prosperity in this country … but toll roads can be a tool in some cases to add capacity."
– Secretary of Transportation nominee Anthony Foxx at his confirmation hearing.