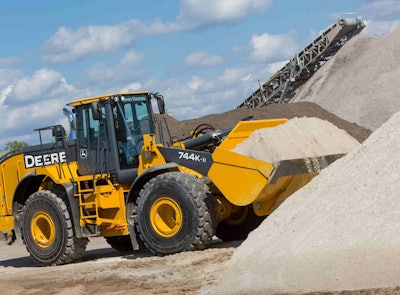 John Deere has added three updated models to its K-Series Four-Wheel Drive Wheel Loader lineup.
The 744K-II, 824K-II, and 844K-II meet Final Tier 4 emissions standards. The 744K-II (303 hp), 824K-II (333 hp) and 844K-II (377 hp) are built on the Interim Tier 4/Stage IIIB solution.
The technology was designed to be simple, fluid efficient, fully integrated and fully supported, employing field-proven cooled exhaust gas recirculation (EGR), easy-to-maintain high-uptime exhaust filters and selective catalytic reduction (SCR).
The K-Series-II loaders come equipped with larger, higher-capacity Teammate V Axles (744K-II and 824K-II) with standard cooling and filtration, and on-the-fly engageable front differential lock giving operators heavy-duty traction for the most demanding terrain.
For added protection, axle oil is filtered by continuously cleaning wear particle and debris out of the oil. Together, John Deere says this system provides increased axle reliability, durability and longevity.