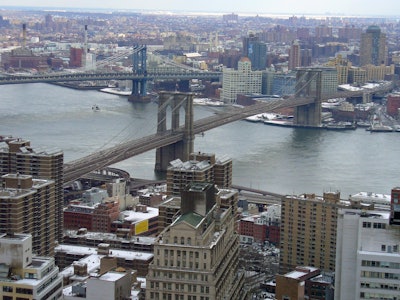 Everyone is familiar with the history of Brooklyn Bridge. It was completed over 130 years ago in 1883 and was the first steel-wire suspension bridge ever constructed. Billions of people have crossed the bridge throughout its history and thousands still cross it each and every day.
Some – if not all – of those people probably don't know there's a Cold War bunker inside.
Inside one of the giant stone arches below the bridge's main entrance on the Manhattan side is a hidden Cold War bomb shelter, packed with boxes of survival supplies in case of a nuclear attack on New York City. Supplies in the bunker include Civil Defense All-Purpose Survival Crackers, paper blankets, water and medication.
In addition to the bomb shelter, there are eight big rooms on the Brooklyn side. Architect John Roebling originally had plans to turn the rooms into shopping and arcade-type spaces. Instead they were used for storage up until 2001 when they were closed for security reasons.
Although the bridge has been around for over 100 years, it has received regular maintenance.