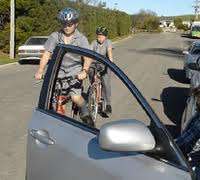 It would be one of those "this is going to hurt" moments that you know is happening but you can't avoid.
As the push to do more for cyclists gains momentum, how does your state stand on "dooring".  This story points out it is illegal in DC and Maryland but not in Virginia. Getting "doored." The word says it all. You are cycling along when a parked vehicle door swings open and wham!  Funny on YouTube but dangerous in reality. As we approach 2014 reauthorization my guess is that cycling regulations and laws will come under increased scrutiny. Throughout the SAFETEA-LU extensions and the MAP-21 debates most of the bike talk was about building lanes and access for cyclists, findings way to make is easier for people to bike to work, and helping the recreational cyclist have more places to go with ease and safety .
The laws of cycling will surely find themslves front and center as more cyclists venture into traffic and limited lane miles are fought over. It's like some sort of predictable cultural process — there will be lawyers. It would seem to be a good idea for reauthorization framers to consider not just what to build for cyclists but how the evolution of bike laws for a new era of cycling might be worked out, because new laws like "door laws" will come from state houses. Otherwise the innocent cyclist  will be forced to become something of a New York City bike messenger, an alter ego we should probably avoid.
It's worth noting that the bicycle was actually a major factor in the creation of America's highways. As bikes became popular in the late 19th century the people who rode them did not really have a lot of useable roads at their disposal. Mostly downtown, urban streets.Venture out of town on a ride and your hit dirt, mud, ruts, puddles and dust clouds. Pressure built for better roads, and that pressure was a significant factor in the improvement of our roads. And from there, cities expanding into suburbs.
.