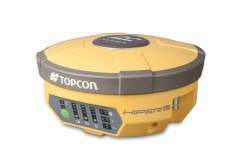 Topcon has announced the latest addition to its HiPer integrated receivers at World of Concrete with the HiPer V.
The HiPer V is an upgrade to the HiPer 2 site receiver by adding Topcon's Vanguard GNSS (Global Navigation Syatellite System) signal tracking and processing technology. Topcon's Scott Langbein noted that the HiPer V's full UHF radio has a reach of up to two miles.
"The HiPer V provides users not only the choice of GPS and GLONASS signals (as well as Galileo when operationally available), but it also includes a variety of choices of internal radio, cellular and Bluetooth communication options, as well as state-of-the-art power supply," said Ewout Korpershoek, TPS senior vice president and chief marketing officer, in a preapred statement.
Langbein discussed the HiPer SR as well, noting that it's a more affordable solution with a shorter range for those that don't need the V's long range radio. The SR has a range of about 1,000 but can be linked up with other SRs to create a network via a cellular connection and the cloud. The SR goes for under $20,000 making it an attractive GPS solution for contractors, but also pool and fence installers, landscapers and more, Langbein said.
The HiPer V and HiPer SR pack 226 channels and Universal Tracking. Universal Tracking allows a single receiver channel to select and track any satellite signal automatically, Korpershoek said.
Topcon says the Vanguard chipset is future proof, as it tracks signals from all currently available GPS, GLONASS and Galileo satellites and will track all currently planned satellites as well.
"Because our channels are not pre-programmed to receive only one specific signal or a type of signal, Topcon users will always receive the maximum number of signals at any given time," Korpershoek said. "In addition, Topcon's Universal Tracking will automatically weigh the best combination of available signals based on health, geometry and application, providing unmatched accuracy, speed of initialization and fixing."
The HiPer V and HiPer SR feature a magnesium alloy housing, light weight and long-lasting battery.
Wayne Grayson is Online Managing Editor for Equipment World, a sister publication to Better Roads. To visit the Equipment World website, go to www.EquipmentWorld.com.