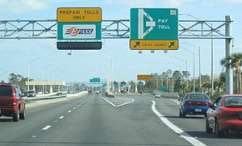 The International Bridge Tunnel and Turnpike Association (IBTTA) is launching what it calls an "aggressive" campaign to show us the benefits of tolling AND suggesting more of it. With highway infrastructure in such abysmal shape, tolling has to be on everyone's lips, even if they speak behind closed doors. After all, it takes money from drivers' pockets.
IBTTA talks about productivity and efficiency, and they will have some serious supporters. A key measure perhaps for 2014 reauthorization will be just how many supporters, how many of them are in Congress and how hard those members are prepared to publicly demonstrate their support.
We have remained stuck in the nowhere land created by the inadequacy of the fuel tax to pay for all the work needed on our transportation infrastructure. Tolling — a user fee – has to be in the future mix, perhaps sooner rather than later. IBTTA makes a good case.