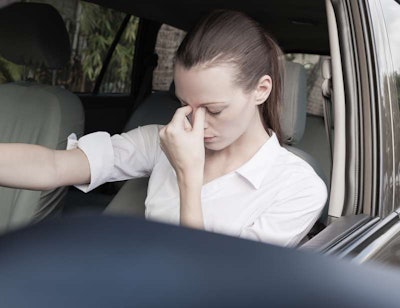 Calling all high school students! If you have a knack for art or just like creating artwork, now is the chance to help out a good cause and display your talents.
The Illinois Tollway, Blick Art Materials and CBRE, commercial real estate services and investment firm, has invited high school art students to participate in the 2015 Tollway Map Cover Art Contest.
The winning contest entry will appear on the cover of the 2015 Tollway map
Students are being sked to submit original works of art created to remind motorists of how tired, reckless drivers on Illinois roadways.
According to the call for entries, students may choose to focus on one or more of the following themes:
Effects of tired driving, which include decreased reaction time, blurry vision and poor judgment that can lead to unsafe driving.
Stay alert. Stay alive. Recognize the signs of fatigue and know when to stop and rest.
This is your wake-up call: tired driving kills. Highlight the deadly consequences of driving when you're tired.
Illinois Tollway Executive Director Kristi Lafleur says that in the past year, "tired, reckless drivers have killed at least six people in Illinois, including an Illinois Tollway worker." Nationwide, driver fatigue results in about 1,550 deaths and 71,000 injuries each year, according to the Illinois Tollway Authority. Nearly 40 percent of adult drivers have fallen asleep at the wheel, according to the National Sleep Foundation
The Tollway Authority hopes that by increasing awareness, it will "keep tired drivers from getting behind the wheel and make our roadways safer for everyone."
This is a good reminder. I'm guilty of driving while tired.
In fact, during my latest trip driving my two kids by myself from Central Pennsylvania back to the Chicago area, I noticed that I was having a hard time staying awake. My eyelids started feeling heavy, opening up the windows to get fresh air didn't help, and I even started doing that shifting around in the driver's thing to keep myself awake.
I realized at that point, it was unsafe for me to be on the road. I left the highway at the nearest exit and pulled off to a safe place to rest for a few minutes. I realized I was not only putting others at risk, but myself and the most precious people to me – my children.
Contest rules and all required entry forms are posted on the Tollway's website at: IllinoisTollway.com. Art contest entries will be accepted beginning Sept. 2, 2014, and must be postmarked no later than Oct. 3, 2014.

Artwork created by the grand prize winner will be featured on the cover of the Tollway's 2015 map, which is distributed at no cost to more than 125,000 customers. Three runners-up will be featured in the Tollway's annual report. Awards include the following:
·Grand prize winner: $400 gift certificate from Blick Art Materials and $200 in gift certificates from CBRE to use at oases retail shops and restaurants
·Runners-up: $200 gift certificate from Blick Art Materials and $100 in gift certificates from CBRE
·A certificate of appreciation for all students who participate in the contest
·Acknowledgment of winners at the Illinois Tollway Board of Directors meeting on Nov/ 20, 2014