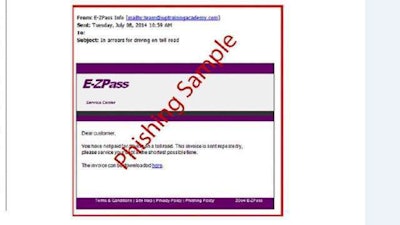 Transportation officials in Maryland have issued warning to the public about an E-ZPass scam. Phony emails have been getting sent to hundreds of people recently requesting E-ZPass Maryland customers to pay their toll debts online.
The emails have been ruled a scam by transportation officials. Scammers are attempting to obtain personal information.
If you receive an email like the one described of above, you are instructed ignore it and delete it.
E-ZPass Maryland promises to never send unsolicited emails asking for payment or requesting personal information.
"Under no circumstances does E-ZPass Maryland ever request personal information via email," according to a statement from the Maryland Transportation Authority.
Illinois, Massachusetts, New York, New Jersey and Washington, DC residents have been receiving similar scam emails from E-ZPass.
Photo Credit: WBALTV.com