The New Jersey Department of Transportation will immediately look into a deadly section of roadway in North Bergen. Three people died in a crash where Route 2 eastbound curves and merges with the Route 495 approach to the Lincoln Tunnel. The area has claimed seven lives in three separate crashes in since August.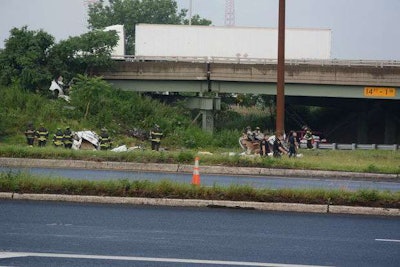 Although rumble strips have already been added to the area the DOT isn't satisfied.
"We are currently studying different approaches of what we can do with the ramp," DOT spokesman Steve Schapiro said.
Until a major overhaul of the ramp can be done, DOT has placed more signage and more rumble strips warning drivers to slow down. The speed limit is 35 mph and a "curve-ahead" warning is in place.
On Aug. 10, 2013 three people were killed in a crash in the area. Less than a month later another man died in a crash not far from there.
The driver of the most recent crash was under the influence of alcohol. His white Mercedes station wagon struck the guard rail where Route 3 eastbound merges with Route 495. His vehicle went airborne leading investigators to believe he was also speeding.
His vehicle landed on the driver's side door and slide over 150 feet into a light pole.