Located in the heart of the Mississippi River Valley; Clayton County, Iowa, is a far cry from the expansive flatlands associated with the rest of the state. Bordering Wisconsin, the county is exemplified by its abundance of streams and rivers, lush rolling hills and winding gravel roads. While certainly picturesque, the landscape can pose challenges for those maintaining the roads, especially in harsh Iowa winters.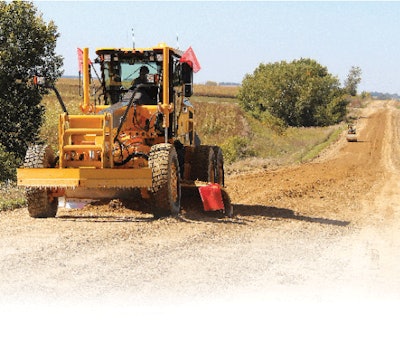 The man in charge of maintaining Clayton County's 1,100 miles of roads – 900 of which are gravel – is county engineer, Rafe Koopman. It's a responsibility he doesn't take lightly because he knows how much is on the line.
Challenging conditions
"We have a lot of people depending on us to keep the roads open in the winter and well-maintained in the summer," Koopman says. "There is a lot of livestock in the area, and we also have factories that run 24/7. We understand that if our residents can't get to work and the local producers can't transport their livestock, their livelihoods are on the line. They're the ones who pay our wages, so our county takes road maintenance very seriously."
The task of maintaining Clayton County's roads, however, is not an easy one. Rural Iowa counties are often responsible for maintaining nearly four times the road miles of other state, city or town agencies. The vast territory combined with the rolling landscape make Clayton County a particularly challenging network of roads to maintain.
"In this area, if you're not going downhill, you're going uphill – and probably around a curve at the same time," Koopman says. "So, keeping the roads maintained is a matter of public safety, and doing so requires careful planning, a dedicated crew and an efficient fleet of motor graders."
Equipment that makes the grade
Clayton County generally runs its motor graders until they hit 10,000 hours, which equates to about 10 years of service. In 2012. The county was due to cycle two new motor graders into their fleet and decided to add Volvo graders.
After getting to know the local dealer – Scott Van Keppel in Cedar Rapids – throughout the course of several years and hearing positive feedback from engineers in neighboring counties, Koopman says the county was impressed.
Ultimately, the county's board of supervisors approved the purchase of two Volvo G946B motor graders. Koopman attributes the county's decision to several factors, including ease of use, ease of maintenance and dealer service.
New equipment decisions
"It's not an easy decision to introduce a new brand of equipment into our fleet, because we really have to feel confident in the relationship with the dealer and their service department," Koopman says.
Prior to the sale and bidding process, Scott Van Keppel brought out several demonstrator machines along with its service teams and representatives from the Volvo factory. "You can own a piece of equipment for your whole life and never understand its full capabilities," says Koopman, "but when you have someone from the team that actually designed the equipment come out and explain it to you, that's when it really clicks."
After the purchase, the dealer team spent time training the equipment operators and followed up a week later so they could develop additional questions, Koopman points out. "We've had virtually no downtime on these machines, but any time we've needed help, they've been there to assist us."
Taking control
With ease of use and cost of ownership top of mind, Koopman identified joystick controls as a requirement of the machines being specified during the bid letting.
"I felt that joystick controls would reduce operator fatigue, as well as provide a higher resale value when we decide to cycle the machines out," says Koopman. "My operators, on the other hand, were a little apprehensive at first."
The two operators who would be running the new Volvo motor graders had previously been running another brand of motor graders with manual lever controls and steering wheels. Making the switch to joystick controls initially put them out of their comfort zone, but the switch came more naturally than they had anticipated.
"Within about a week, I'd say they were convinced they did not want to go back to their other machines," Koopman says.
The operators agree. "The controls feel really natural, and they can be set where you like them," says Harry Hines, motor grader operator for Clayton County. "I also like that the motor grader has a steering wheel. This is as nice of a setup as I've ever been in."
Quick service and clear roads
Koopman's operators are responsible for most of the routine maintenance of their motor graders. The faster they can complete these tasks, the more quickly they can get on the road and complete the job. So, ease of maintenance is a big selling point for Koopman.
"Our working conditions are very dusty, and we used to have a lot of problems with our machines running hot, because the radiators and air conditioner condensers were sucking up so much dust," Koopman says.
Sending out a mechanic to clean the radiators can lead to several lost hours of productivity, but with the new machines, Koopman and his operators are better able to service the machines without putting a call in to the mechanic.
"The radiators are much more accessible on these machines, so my operators are able to quickly clean them out in the field before it becomes an issue," Koopman says.
The serviceability of the machine doesn't just lead to greater productivity; Koopman believes it leads to better operator safety as well. "All the major grease points and the fuel fill are accessible at ground level, which is much safer than other machines," Koopman says. "In the old days, my operators had to climb up on the machine or on the wheel to access everything, which I never did like from a safety standpoint, especially during the winter when everything's covered in snow and ice."
However, he bases his decisions on a network of individuals that extends well beyond his operators.
A family affair
Having grown up in Clayton County, Koopman knows how important his job is to the community.
"Whether it be a decision about equipment purchasing, financials, or the prioritization of road maintenance projects, the first question he asks himself is "how will this decision affect my county?"
"We have 18,000 people depending on us to keep the roads safe. These people are my friends and family," says Koopman. "There is a great sense of pride that comes with making decisions that I know will improve the way we do things. Getting our roads open faster and more safely for the people I care about – that's what it comes down to."
Article and photos courtesy of Volvo Construction Equipment.
For a video about this project, go youtube.com/watch?v=lOYNVAtgpQw