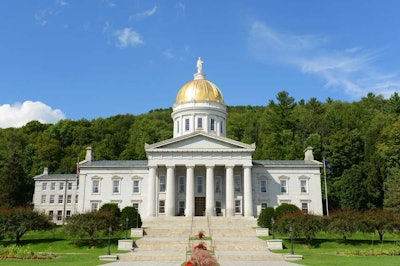 Vermont Gov. Peter Shumlin on Monday signed a $685.7 million transportation bill for fiscal year 2015, marking the largest transportation infrastructure investment in the state's history.
The legislation approves infrastructure improvements and maintenance, supports a multimodal transportation system and focuses on economic development, safety, infrastructure preservation and maintenance, energy efficient transportation choices and the continued reconstruction of infrastructure damaged by recent natural disasters.
Shumlin, who signed the bill at a bridge project in Morrisville, noted the improvements that can be made with the state's infrastructure investment.
"This budget makes sound investments in our infrastructure that will grow Vermont jobs not only by directly supporting jobs in the construction industry, but also by supporting other important economic sectors such as tourism, agriculture, hospitality, manufacturing, among others," Shumlin said in a prepared statement.
Vermont Transportation Secretary Brian Searles added that the state has improved in recent years. Its bridge ranking has climbed from 45th in 2008 to 28th in 2013, while its percentage of structurally deficient bridges has declined from 19.7 percent to approximately 8 percent in the same period.
"Several successive years of record level investment are yielding positive results," Searles said. "We are seeing improved performance in pavement quality and in the condition of our structures. To continue these gains, this transportation bill will advance the repair or replacement of more than 100 bridges, perform preventive maintenance on dozens of structures, and improve more than 375 miles of pavement."
The legislation approves the following specific investments:
$115.7 for paving

$140.3 million for bridges

$50 million for roadway

$13.3 million for highway safety and traffic operations

$2.7 million for park-and-ride facilities

$29.8 million for public transit

$19.9 million for aviation

$37.3 for rail

$108.7 million for town highway programs