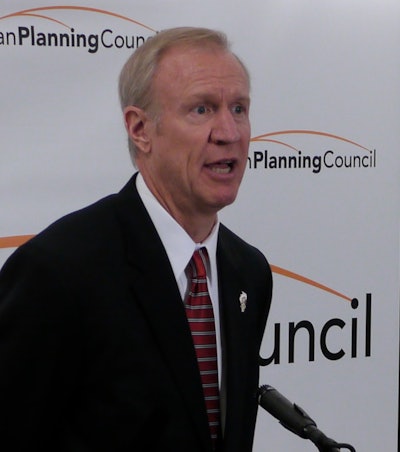 Illinois Gov. Bruce Rauner's first move as the state's top executive official was to delay the planned expressway between Illinois and Indiana.
The Republican has issued an executive order in hopes to cut spending. As a result, planning and development of any major interstate construction projects have been immediately suspended pending a "careful review" of costs and benefits, according to The Northwest Indiana Times.
One of the projects put on hold includes the planned Illiana Expressway, a 47-mile east-west link between Interstate 65 in Indiana and Interstate 55 in Illinois.
The expressway was expected to be a $1.5 billion project.
Meanwhile, Republican Indiana Gov. Mike Pence supports the project saying it would relieve traffic congestion on Interstate 80 south of Chicago and create several jobs.
"From my perspective, Illinois has a much greater benefit than Indiana, so if Illinois is questioning the cost-benefit, obviously that would be a sign that something might be missing," Pence said, according to The Northwest Indiana Times. "Illinois has been driving it."
No word on when Rauner will have time to review the project for potential approval.