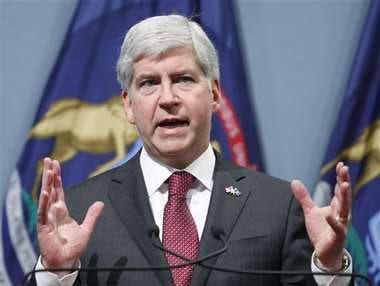 Gov. Rick Snyder has signed a transportation infrastructure bill to spend $1.3 billion more per year to help fix Michigan's deteriorating roads and other transportation infrastructure. The bill is contingent on voters increasing the state sales tax to seven percent in May.
Snyder signed a package of 11 laws that would restructure and ultimately raise flat per-gallon fuel taxes while exempting fuel from the state's six percent sales tax. According to Fox Business, other measures would make gasoline and diesel taxes the same, no longer let vehicle registration fees drop in the three years after the purchase of a new car, assess extra fees on electric and hybrid vehicles, and restore a tax credit for low-wage earners.
None of the laws, however, will take effect if the sales tax increase doesn't pass in May.
"This is a smart investment to make by the citizens of the state of Michigan to invest more in our roads, schools and local government," Snyder said, according to Fox Business.
Back in November Snyder said that Michigan would need to spend an additional $1.2 billion to $1.4 billion a year on roads and bridges throughout the state. If the latest bill goes through, $1.3 billion should be enough money to support the state's transportation infrastructure for several years.