Text INFO to 205-289-3789 or visit www.betterroads.com/info
Special World of Concrete 2014 coverage from the show floor. Please see betterroads.com for additional product and press event coverage.
Allen reversible plate compactors
Allen Engineering's new line of reversible plate compactors, designed for applications with limited space, consists of three models, each with two exciter shafts. The machines, which reach up to 9.3 horsepower, feature an engine cover, up to 11,241-pound centrifugal force, up to 85-feet-per-minute travel speed, 20- to 25-inch working width and 42,000 to 5,400 vpm. alleneng.com
betterroads.com/allen-reversible-plate-compactors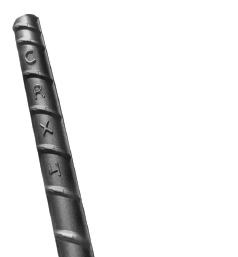 MMFX ChromX 4100 high-strength rebar
MMFX Steel's ChromX 4100 rebar has the same mechanical properties of high-strength ASTM A1035 reinforcing steel and serves as a high-strength alternative for applications in which corrosion resistance isn't needed. The high-strength rebar allows structures to be built with up to 40 percent less steel and offers up to 60 percent in cost savings. mmfx.com
betterroads.com/mmfx-chromx-4100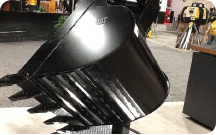 Caterpillar hydraulic coupler prototype
Caterpillar offered a sneak peak at its hydraulic tilting coupler prototype at World of Concrete last month. Set for release this summer, the unnamed coupler, which can attach to any excavator or backhoe loader, features hydraulic interface and simplicity with coupling to most machines as a quick-attach coupler. cat.com
betterroads.com/cat-hydraulic-coupler-prototype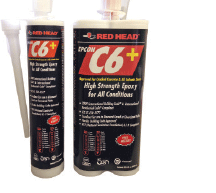 ITW Red Head Epcon C6+ concrete adhesive
ITW Red Head's newly improved Epcon C6+ specialty concrete adhesive offers a high and consistent tension performance in submerged applications and can install at jobsites where concrete is wet. Available in 10- and 20-ounce tubes, the adhesive has an improved dispensing capability and minimized odor. itwredhead.com
betterroads.com/itw-red-head-epcon-c6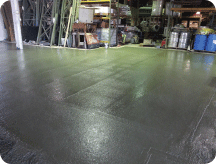 Cool-Crete Technology's Cool-Crete concrete
Cool-Crete Technology Group's new Cool-Crete concrete is designed to eliminate the harmful effects of hydration, offer longer life and improve appearance. Made of portland cement, sand and stone, the concrete eliminates the first-phase heat of hydration when the concrete cures, reducing porosity.
betterroads.com/cool-crete-concrete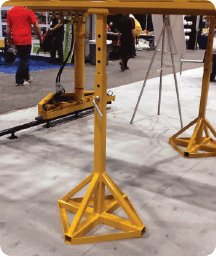 Terex Bid-Well 4800 paver
Terex Bid-Well has updated its 4800 paver by adding barrier brackets, swing legs and a universal hydraulically powered crown. The brackets pick the rail off of the deck, assist with finishing and can be customized to fit over parapet wells; the swing legs can be turned upside down to increase the wall height by 4 to 5 feet; and the universal hydraulic crown supports the paver during skewing or standard paving. terex.com
betterroads.com/terex-bid-well-4800-paver-woc
Honda GXR120 Rammer engine
Honda Power Equipment's GXR120 Rammer engine is designed for heavy-duty rammer applications, has a displacement of 121 cc and can power 110- to 175-pound rammers at various altitudes. Features include a cast-iron cylinder sleeve; dual-bar bearing; high-carbon steel; recoil starter; fan cover; overhead camshaft (OHC); maintenance-free, low-noise timing belt; compact muffler; lubrication system with dual-breather chamber; heavy-duty recoil starter; automatic decompression system and oil alert. powerequipment.honda.com
betterroads.com/honda-gxr120-rammer-engine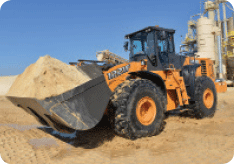 Case 1221F wheel loader
Case Construction Equipment's 1221F wheel loader, the largest in the company's F Series, features a 11.9-liter Tier 4 Interim, cooled exhaust gas recirculation (CEGR) engine with diesel oxidation catalyst (DOC) and diesel particulate filter (DPF) with clean-burning power. Designed for heavy applications, the 66,800-pound machine has bucket sizes ranging from 6.3 to 7.8 cubic yards, four programmable power modes, dual-mode shutdown feature and is available in Z-bar and extended-reach (XR) configurations. casece.com