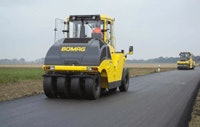 BOMAG's BW24RH and BW27RH pneumatic-tired rollers feature a hydrostatic drive system, two-point steering pivot and enhanced access to all maintenance points. The rollers offer the versatility to deliver high performance on thicker asphalt layers while also efficiently compacting thin layers and sensitive asphalt mixes.
The BW24RH is powered by a 100-horsepower, water-cooled Deutz diesel engine, whereas the BW27RH features a 134-horsepower Deutz engine with charge air cooling. Both rollers are built with hydrostatic drive systems that provide infinitely variable speed control from 0 to 12.4 mph and smooth transitions between forward and reverse. The hydrostatic drive system also is more fuel-efficient and requires less maintenance compared with mechanical drive options.
For improved steering capabilities, both rollers feature a two-point steering pivot on the front four tires. Contrary to a standard solid axle that would have all four front tires on a common beam, responding and turning simultaneously, the two-point system allows for sequenced steering. This means that when the operator turns the steering wheel, the inside and outside tire pairs turn at a different rate, allowing for smooth steering transitions and reducing potential damage to the surface of the mat.
The rollers feature ergonomic operator's stations that are designed for optimum visibility. The stations include two steering wheels, sliding/swiveling seats and automotive-style accelerator and brake pedals. This same platform design is shared with BOMAG's current line of heavy tandem rollers, making for a very comfortable operator transition between rollers.
Offering a fully ballasted operating weight of 53,570 pounds, the BW24RH delivers a maximum per-wheel load of 6,614 pounds, whereas the BW27RH can be fully ballasted up to 59,525 pounds and delivers 7,441 pounds per-wheel. The eight tires — four in the front and four in the rear — have a total coverage area of 80 inches with a 2-inch tire track overlap. Additionally, the rollers come standard with an automatic tire inflation system that allows the inflation value of all tires to be easily adjusted from the operator's station.
The BW24RH and BW27RH have been designed for simplified maintenance. With all maintenance points positioned in one area and a wide opening hood, virtually every component is easily serviceable from ground level.
Other standard features include a pressurized water spray system with 106-gallon tank, ROPS and seatbelt, lockable anti-vandal dashboard protection, back-up alarm, headlights (front and rear) and hour meter. Options include a weatherproof cab, heater, air conditioning and heat retention shields.
For more information on the BW24RH and BW27RH pneumatic-tired rollers or the complete BOMAG Heavy product line, including single-drum vibratory rollers, tandem vibratory rollers, steel-wheel rollers, pneumatic-tired rollers, recyclers/stabilizers and refuse compactors, contact BOMAG Americas, Inc., 2000 Kentville Road, Kewanee, IL 61443, call 309-853-3571, toll-free 800-782-6624, fax 309-852-0350, e-mail info.bomag@bomag.com or visit the BOMAG website at www.gobomag.com/asphalt-rollers.