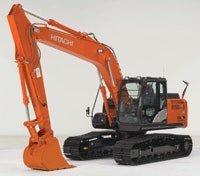 Moline, IL — What happens when you don't build all equipment for all jobs, but specialize in excavators? You build them better. You don't cut corners. You make them more reliable and productive. And you come up with a model like the ZX180LC-5. New to the North American market, it specifically designed to appeal to small local contractors, water and sewer contractors, and those who dig basements and pools. It packs excellent productivity and fuel economy into a small package.
The ZX180LC-5 is slightly bigger than the new 160LC-5, yet has a unique boom/arm configuration for greater lift capacity and a wider undercarriage for more stability. It is lighter and easier to transport than the next-sized up 210-5/210LC-5 excavators, yet can perform much of the same work while saving diesel-fuel dollars.
The new 180LC-5 is also loaded with numerous customer-driven enhancements to deliver superior productivity and durability, while keeping operating costs low.
Machine specifics
The ZX180LC-5 can come equipped with either a 2.71-m (8-ft. 10-in.) or 3.21-m (10-ft. 6-in.) arm; 3910-kg (8,620-lb.) counterweight; and 600-, 700-, or 800-mm (24-, 28-, or 32-in.) triple semi-grouser shoes.
Clean, powerful Isuzu engine
The powerful Isuzu AI-4JJ1 diesel engine generates 90 kW (121 hp).It employs a cooled exhaust gas-recirculation (EGR) platform paired with a diesel particulate filter (DPF) to meet EPA IT4/EU Stage IIIB emissions regulations. This easy-to-maintain engine requires no special additional fluids — just ultra-low-sulfur diesel fuel and CJ-4 engine oil. The DPF is replaced at 4,500 hours by a Hitachi dealer.
Excellent hydraulics put the operator in control
Productive hydraulics and outstanding multifunction operation are a Hitachi tradition. Multiple sensors instantly feed automatic micro-adjustments for increased hydraulic power to maintain steady, sure movements. Short-throw, low-effort controls, unmatched metering, and smooth multifunction operation provide finesse and precision when they're needed.
Three work modes allow an operator to choose a digging style that fits the job. High Productivity (HP) delivers more power and faster hydraulic response. Power (P) delivers a balance of power, speed, and fuel economy for normal operation. And Economy (E) maximizes fuel efficiency while delivering an enhanced level of productivity.
Roomy cab with a view
The spacious cab features a wider door with more glass, more side-to-side foot room, a more comfortable high-back seat with increased slide range, and a new easy-to-read and easy-to-operate multifunction monitor. Among other things, the multi-language LCD monitor tracks scheduled maintenance and reminders. It even provides diagnostic codes to assist in troubleshooting. Just dial and tap to select radio stations, monitor maintenance intervals, set cab temperature, and more. The monitor also includes an attachment support system, with 11 modes that can be displayed to help fit different attachments.
Narrow front cab posts, large overhead glass, and numerous mirrors, including one on the counterweight, provide excellent all-around visibility. The low rear-hood profile makes it easier to check for activity behind the cab.
Special features such as a heated air-suspension seat, additional lighting, and a rearview camera are optional. Need even more? Other options include control pattern change valve, bucket sizes, high-flow auxiliary hydraulic packages, and more. Local Hitachi dealers can even add iPod connectivity.
Durability
Welded bulkheads within the boom resist torsional stress for unsurpassed durability. Booms, arms, and mainframe are so tough, they're warranted for three years or 10,000 hours, whichever comes first.
Tungsten-carbide-coated wear surfaces protect the all-important bucket-to-arm joint. Reinforced resin thrust plates, grooved bushings, and thermal-coated bucket joints increase arm- and boom-lube intervals to 500 hours. Oil-impregnated HN bushings enhance durability and extend grease intervals to 500 hours for the arm and-boom joint, 100 hours for the bucket joint. Reinforced D-channel side frames provide maximum cab and component protection.
Maintenance
As for maintenance, Hitachi makes it easy. Vertical spin-on fuel and engine oil filters simplify service and help minimize messes. Filters and checkpoints are conveniently grouped. Easy-to-reach centralized lube banks help make greasing less messy and time-consuming.
There is easy access for cleaning the condenser and radiator, and replacing consumable parts. And the placement of the cooling package in parallel also aids the cleaning process
Easy-to-check sight gauges and fluid reservoirs, quick-change remote-mounted vertical filters, and extended engine and hydraulic oil-service intervals minimize downtime for periodic maintenance.
The new ZX180LC-5, like all ZX Dash-5 Excavators, comes standard-equipped with three years of ZXLink™ Ultimate, enabling 24/7 online access to machine location, health, utilization, fuel consumption, and other valuable information for better understanding of costs and jobsite performance. Using ZXLink and the in-cab diagnostic monitor, scheduled maintenance intervals and trouble codes are easy to access.
Setting the benchmark
The Zaxis-5 Models set the benchmark for all-round efficiency with hydraulic systems that allow faster operation, with lower fuel consumption; an increase to the auto-power boost and auto-power lift for delivering an enhanced level of excavating performance and lifting power; and a reinforced undercarriage and strengthened front attachment for added durability in tough working conditions.
For more information about the Zaxis 180LC-5 Excavators, go online to www.hitachiconstruction.com or visit your local Hitachi dealer.