Green Fleet Initiative
Making sure your fleet meets one of these levels could mean the difference at bidding time.

Burnishing your company's environmental credentials or putting in place a program to reduce your fleet's exhaust emissions just got easier with the Association of Equipment Management Professionals' Green Fleet initiative. The beauty of the program is it's not hard to qualify for the lower green fleet levels and graduating to higher levels can be achieved in reasonable increments.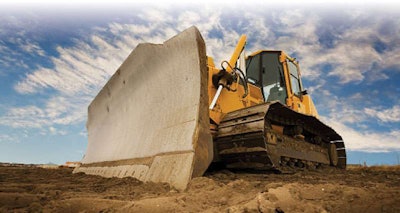 Similar to, but not affiliated with the Leadership in Energy and Environmental Design (LEED) program, the AEMP Green Fleet program establishes four levels of "green" for fleets: bronze, silver, gold and platinum. Here are the criteria for 2011:
• Bronze: 50 percent of your fleet must be Tier 2, or you must have a written idle policy.
• Silver: 50 percent of your fleet must be Tier 2 and you must have a written idle policy.
• Gold: 50 percent of your fleet must be Tier 3 and you must have a written idle policy
• Platinum: 50 percent of your fleet must be Tier 3 and 10 percent of your fleet must have one of the following: a diesel oxidation catalyst or diesel particulate filter, or some kind of aftermarket exhaust filtration; or "Best Available Technology," which right now means Tier 4 Interim.
"These levels were created because we feel there are a lot of fleets out there that could achieve bronze status without too much trouble," says Sara Sanderman, AEMP's director of program development. "Implementing an idle policy is more difficult than it sounds, but the cost is pretty minimal. And we don't want to discourage fleets, especially government fleets that might have tight budgets right now."
The fleet application form is a spreadsheet similar to the equipment inventory forms you fill our when you apply for emissions-related grants, says Sanderman. That makes the paperwork easier for fleet managers if they've already done this, and it will help prevent duplicate data entries for fleets that may be applying for grants in the future.
Fleets will recertify every two years and the standards will get tougher over time as the emissions regulations tighten and the technology becomes more advanced. Future standards are not yet set but the AEMP is reviewing them for 2013. The program is open to fleets of all sizes, and participating companies do not have to be AEMP members to participate. The cost to certify a fleet per machine is: Bronze, $4; Silver, $3; Gold, $2; Platinum, $1. Recertification fees are: Bronze, $2; Silver, $1, Gold, $0.75; Platinum, $0.50.
"Equipment managers aren't opposed to cleaning up their fleets," Sanderman says. "They want to promote environmental stewardship and reduce their carbon footprint, but they want to do it in a way that makes sense. And fleet managers needed a way to demonstrate a benefit for their commitment." Having a certified fleet is good from a public relations standpoint, since it shows that the construction industry cares about the environment, she says. But it will also give contractors documentation that helps them qualify for grants or bids when government or private clients ask for emissions data or environmental policies, she adds.
– Tom Jackson
Digital exclusives for June
Highway Contractor:
From Better Roads
Sourcing used equipment?
It's complicated.
Product Focus:
Additional trailers from Etnyre, Rogers and more.
New products fromRadiodetection, Magnalight, Schwing and more.
Network with us!
Connect with EW on Facebook, LinkedIn and Twitter. Enter "Equipment World" in the search field, join the group or "like" EW and stay updated on news and events while networking with fellow industry members.
Subscribe to our YouTube channel!
www.youtube.com/equipmentworld.
Facebook page:
https://www.facebook.com/EquipmentWorld/
LinkedIn:
https://www.linkd.in/EWmagazine
Follow us on Twitter: