Commercial class pavers
Smaller and lighter than their big brothers in the highway business, pavers less than 25,000 pounds are more sophisticated than ever.
By Tom Jackson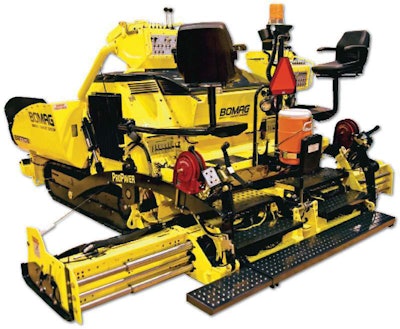 Asphalt paving contractors who specialize in parking lots, paths and driveways don't measure success by the ton; they measure it by time – as in how fast they can complete one job and move on to the next. With speed, maneuverability and flexibility driving the design criteria of these pavers, the commercial class category is coming close to matching highway class pavers in features and technology.
"If you haven't looked at a commercial class paver in the past 10 years, or even the past five years, you'll be astounded at the capability of these little machines," says John Hood, manager of product development and sales for paving and milling equipment at BOMAG. Features such as electric heated screeds, automatic fume control and electronic grade and slope controls are now offered as options or standard in some cases.
And while mainline highway class pavers are designed for one thing only, commercial class pavers get called upon to perform a variety of chores. In addition the applications mentioned above, they're used to pave backfilled trenches, landscaped and garden areas, factory floors, patch large asphalt cuts and lay down and compact sand, gravel and aggregate.
Defining commercial class
Commercial class pavers run the gamut of sizes from small, one-man cart and path pavers to big machines that push up against the lower end of highway class pavers. At the light end of the scale you have box-gravity fed systems for small volume applications. The simplified, box-gravity designs fill a low-cost, low-maintenance niche in the marketplace. They offer a paver that's easy to transport and easy to maneuver both around obstacles and up close to buildings.
The limitation on gravity fed designs is volume. In most situations you're doing good to lay down 200 tons a day. And gravity fed pavers are shorter, which can affect smoothness over a long pull. "We see them more and more in municipal applications where guys are patching and doing small driveways," Hood says. But to maintain any real production people go to conveyor fed pavers because they're not starting and stopping as much."
The larger commercial class pavers are capable of doing city streets and small roadways, although they're not designed for the high volume, long distance mainline highway paving jobs. Still, some mainline paving contractors will keep a large commercial class paver in their equipment arsenals and use them to pave shoulders, rumble strips, turn lanes and other low-speed areas of the road.
The cutoff weight to define a commercial paver is pretty subjective, says Brodie Hutchins, general manager, Vögele America. "The Association of Equipment Manufacturers used to define the classes by weight but now they are defined by horsepower," he says. The larger commercial pavers are actually in a category that does not exist by definition.
With versatility becoming more important, these machines are designed for contractors who want to do commercial work and step up into the heavy commercial and highway work. Then it becomes a question of whether or not you want to spend a little more money and step up to a true highway class paver in the 30,000-pound category, Hutchins says.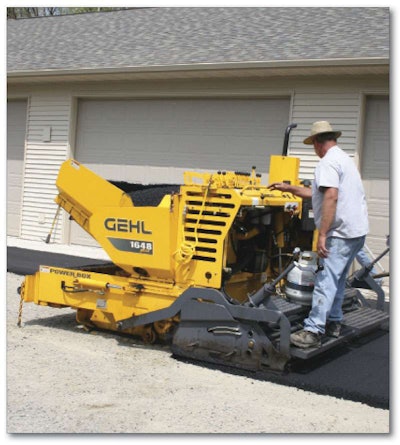 Capacity and setup
With commercial class pavers, operators could put down as much as 1,200 tons a day in a perfect scenario with the right people, trucks and a jobsite with no obstructions, says Frank Riggi of Riggi Paving, Fairview, New Jersey. But commercial pavers are best suited for the jobsites with 500 tons or less, he says.
"Most people who do this kind of paving do not step up to large machines until they go over 700 to 900 tons per day on a consistent basis, and they have a very open area to pave," says John Rau, product training specialist for Gehl.
Trevor Thielbar at Mauldin Paving Products suggests contractors consider the kind of job setups they'll be doing when evaluating a commercial class paver. "If the job requires a lot of different length pulls due to the engineering design, drainage, obstacles, etc., then this class of paver is probably better suited because they are more maneuverable, do not waste as much asphalt and they require less time to set up and stop after each pull," he says.
One of the mistakes users of commercial class pavers sometimes make is not planning for an adequate level of support equipment to work with the paver. "If you're doing residential driveways, a couple of trucks will probably get the job done," says Hood. "If you're doing large commercial parking lots, the sky's the limit. Even if you're running 20 or 25 trucks, it can be difficult to keep up in wide-open areas."
The same holds true with compaction equipment. "It's difficult to maintain an effective production rate with just one roller behind these pavers," Hood says. The space and openness of the jobsite and the amount of asphalt to be put down determine the size and number of rollers. Riggi says he typically uses an 8-ton roller for the initial compaction followed by a 2.5-ton roller to remove the lines made by the larger roller.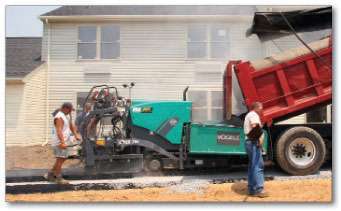 Wheels vs. tracks
In the commercial paver category, the majority of machines come with rubber or poly pad tracks rather than tires. In the loose or soft soils typically encountered in cart path paving applications, wheels might get stuck, says Rau.
"Most of the contractors want tractive effort," says Hutchins. "When they're putting in driveways or parking lots they're typically dealing with unpredictable sub-bases, where a wheeled machine can sometimes spin."
The advantage of wheeled designs is that they have faster travel speeds when roading between jobs, and because the tires don't scuff as much as tracks, they may be preferred on resurfacing applications on paved or improved surfaces.
Grade and slope controls
Most manufacturers offer a variety of grade and slope controls as options. In most cases you can stick with the basic contact design or spec your favorite brand of electronic non-contact controls as a plug and play option. However, some of the smaller gravity fed pavers may not be adaptable to electronic add-ons. And while the variety is there, functionality tends to dominate the market.
It's easy to apply automation on highway jobs, because you set up once and run straight for long distances, Hood says. "In commercial applications, where you're twisting and turning and backing up and doing short pulls sometimes you might spend as much time setting up the automation as you do paving."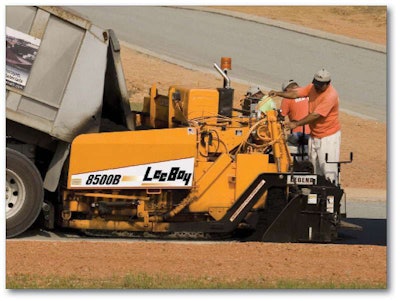 Screed heating
One of the most popular highway class features to migrate into the commercial class category in recent years is electric screed heating. Electric heat is popular because of its quick start up, even heating and lack of fumes.
But for large screeds it can require a fairly large engine to provide sufficient horsepower for the generator that creates the electricity, says Hood, which is why it's less typical on the smaller pavers. Vögele, however, fits all its screeds with electric heat as standard, pairing high efficiency generators with a smaller screed foot print to generate sufficient current with the smaller engines.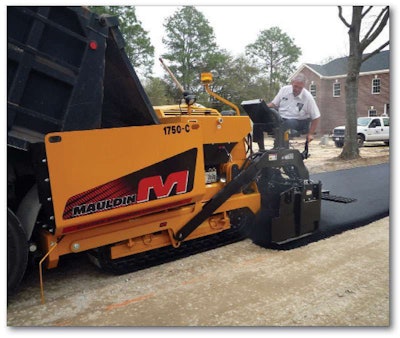 Another low cost option, although more rare, is to use the engine exhaust as a way to heat the screed. "It allows the engine do all the work," Gehl's Rau says. You can keep it going down to the screed the entire time you are paving and it will not cost you a dime." Propane systems still dominate the market, but require some maintenance on the seals, gaskets and torches. BR
Tom Jackson is executive editor for Equipment World magazine, a sister publication to Better Roads.
BOMAG
With the introduction of its newest paver the BF6615, BOMAG brought electric screed heat to its lineup. And electric heat will become an option on some of its 85-horsepower pavers by the end of the year, says BOMAG's John Hood. The new screed heating designs use a cycling system to reduce the load on the genset and thus the engine. The BF6615 also offers fume extraction. All of BOMAG's pavers put material feed augers on the hydraulic screed extensions (rather than the hopper). As you move the hydraulic extension out you move the auger with it, reducing the need to shovel material out to the ends of the extensions. The new BF6615 has both hopper-mounted augers and the extendable screed-mounted augers. BOMAG has fully electro-hydraulic controls with manual backups to over-ride the electronics in case of a short or electric system problem.

Gehl
Gehl offers two gravity feed models. They feature a no-frills design to keep acquisition costs low for smaller paving companies. Easy access to service points reduces the time required for maintenance and equal visibility to the right and left edges of the paving edge make it easier to achieve quality results. Gehl also designs its pavers with sufficient clearance for the undercarriage to avoid problems with obstacles caused by soft base material, manholes and water boxes.

Vögele
Although Vögele builds several commercial class pavers that can be purchased as special orders in the United States, the Super 700 is its main offering in this country for track-driven commercial class pavers. The Super 700's primary attributes are that it is maneuverable, versatile and rebuildable, says Vögele's Brodie Hutchins. "It's really a highway design put into a smaller package. It has the same conveyor chain and componentry and drive motors, just in smaller dimensions." The Super 700 is also guided by the company's proprietary Niveltronic SC system for grade and slope control. The push rollers fold in with the hopper sides and the conveyor is reversible to prevent spilled mix when transferring to new jobsites. The Super 700 is also a one-man machine, adds Hutchins: "The way the operator is stationed, you can run and operate everything." In the larger sizes Vögele offers two rubber tire commercial class pavers, the Super 1103-2 and Super 1303-2, and track versions – Super 1100-2 and Super 1300-2.

LeeBoy
From the entry level 1000F tilt-hopper paver to the 8816B, 8515B and 8510B conveyor pavers, LeeBoy offers a wide range of commercial class pavers. All LeeBoy pavers feature the Legend Screed System for producing mats up to 15 feet in width. The LeeBoy Legend Electric Screed system gives contractors the choice between propane fired and economical, efficient electric heating systems.

Mauldin
One of the distinctive features of a Mauldin commercial class paver is the weight of the screed, in some cases as much as twice as heavy as others, says Mauldin's Trevor Thielbar. "The heavier screed leads to benefits similar to those found in highway class pavers. These include higher mat density, uniform mat texture and uniform mat color. Mauldin offers an electrically heated screed on its 1750-C paver and also offers the option of choosing tracks or tires on its 550E and 690F models. Foam fill on the tires eliminates the danger of going flat. Mauldin's Freedom vibratory screed incorporates extending, reversing augers.