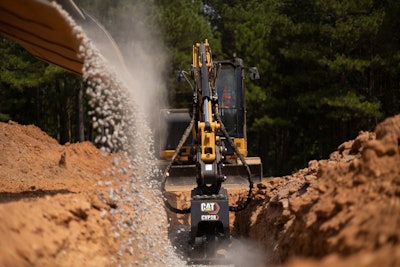 Cat
Caterpillar unveiled a range of new attachments for backhoe loaders and mini excavators at ConExpo-Con/Agg 2023 to increase the machines' versatility.
The new models span the range of demolition and sorting grapples, multipurpose grapples for Cat tiltrotators, vibratory compactor plates, and cold planers.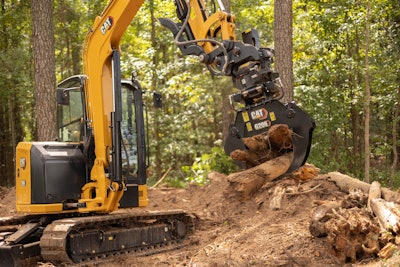 Grapples for tiltrotator
Among the new attachments unveiled was the first hydraulic attachment for the Cat tiltrotator product family.
Within the demolition space, Cat initially started with its B-series hammers.
"We eventually introduced the shear and we got into what we call our basic grapple or contractor grapple with stiff link thumb and the buckets will rotate back to the grapple itself," he said.
Now, the company is continuing down that line with the new Cat G206 and G208 multi-purpose grapples that expand the grapple technology in combination with the TRS6 and TRS8 models for 5- to 10-ton mini hydraulic excavators.
"There's a lot going on here, this is really handy, what we call a multipurpose grapple," Britton said, noting that they are also considered bypass grapples.
These models allow maximum maneuverability with TRS attachments, and an integrated bracket provides a minimal offset to optimize the performance of grapple functionality.
With the G206 sized for 5- to 6-ton excavators and the G208 for 7- to 10-ton models, these multi-purpose grapples deliver 14.5-kN (3,260-lbf) and 18.4-kN (4,136-lbf) maximum closing force respectively.
As with other attachments, the grapples have their nomenclature. The G108 was a very basic grapple. For the G206/G208 the G is the grapple and the two means there is no rotation head in it because it works off the bottom of a tiltrotating system and the six or eight refers to the 6- or 8-ton platform.
Britton said the G206/208 will be mounted on the bottom of a TRS6 or TRS8.
"If you think about an application for a 306 and you think about a customer who's going to be using that TRS6 you're talking about an advanced level customer probably running their own business probably at a high level," Britton said, suggesting perhaps a landscaping or hardscaping contractor.
"These are excellent in picking up those big block stones," Britton said. "Think about not having a worker's comp claim versus owning the G206 grapple on the bottom of your TRS. There's a huge difference to it."
One feature he highlighted is the integrated load-holding valve. It maintains grapple closing pressure with no leakage, while the hard-mounted piston accumulator maintains grapple arm closing forces with shifting loads.
"If you're an advanced operator and you want to reposition your machine and you collapse that in and put all the weight on that grapple it doesn't jam the cylinders," he said.
He noted that it's a small detail that a lot of people won't know about, but it's built into the attachment.
"That and all the other things you're seeing, the oversizing of the bushings, it's got hardened edges on it. It's built to last," Britton said. "It also has a load-holding valve because I don't want to pick something up and then worry about my arm strength."
In addition, optimal routing of the integrated jumper lines and hoses safeguards against damage and dirt infiltration for long-term reliability.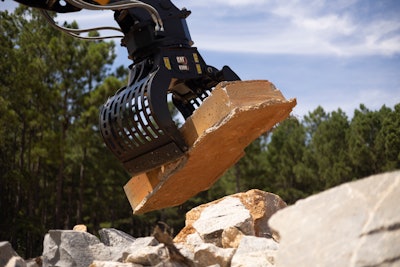 Sort it out with grapples
Britton said the G306/G308 demolition and sorting grapples are distinctly different animals. The 3- designation means it has the rotation head for the 6- or 8-ton platforms and is considered a demolition or sorting grapple.
"The G306/G308 series is quite a distinct difference that has the rotation head in it," he said. "It's very different customers and very different applications."
The new G306 and G308 models are specifically designed for 5- to 6-ton and 7- to 10-ton mini hydraulic excavators respectively.
These models excel in waste, recycling, and heavy-duty material handling applications where precise material placement is required. With open and close functions controlled by the machine's first auxiliary function and rotation head handled by the second, these grapples deliver fast and productive material handling with 360 degrees of bidirectional rotation.
"That is exactly what it's doing its demolition sorting," he said. "If I'm tearing out a house and I'll be able to reach in and pull that wall out. That's exactly what this application is built for. "
Britton said another benefit is being able to go up against the wall and come straight down.
"You're not losing the curvature, you'll going to be riding the edge," he said.
A slim design makes it easier to get into tight spaces, and material capacities range from 160 l (0.21 yd3) for the G306 to 240 l (0.31 yd3) for the G308.
According to Cat, vertical perforated shelves offer high wear resistance, positive penetration, good load visibility, and easy positioning, while the oversized heavy-duty cylinder with load holding valve delivers constant clamping force, even when maneuvering the grapple or machine.
The anticipation is seeing more of these on the 8-ton platforms or the 309 machines.
"Of all things I've done at Cat it's one of those fun tools to run if you ever get a chance," Britton said.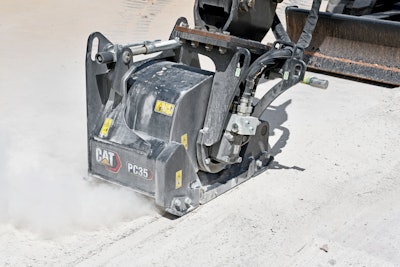 Milling precision
Designed for small paving jobs in residential and commercial applications, new Cat cold planers deliver economical restoration of asphalt and concrete surfaces.
Britton said the smaller cold planers are geared toward municipalities.
"We tend to see them in small towns where they're doing little patchwork some of the smaller projects some of your bigger paving customers will have them as kind of their way to get around curbs and manholes but that's where we tend to see these," he said.
The small cold planer attachments mill imperfections before resurfacing and removal of deteriorated pavement and traffic lane stripes.
"We used to have a pretty small volume of the cold planers. You tend to see these on backhoes and excavators. We've made quite a bit of updates to them," Britton said.
The former 404 models have evolved to become the PC45.
He said the highest volume product in the space is in that 304 or 306 range. That is the target market for the PC35.
Offering a working width of 350 mm (13.8 in) and 120 mm (5-in) maximum milling depth, the PC35 is designed for operation with side-shift backhoe loaders and 5- to 6-ton mini hydraulic excavators.
The new Cat PC45 replaces the PC404 with its 450-mm (17.7-in) cutting width and 150-mm (6-in) cutting depth and is ideal for use with backhoe loaders and extends the planer's compatibility to 7- to 10-ton mini hydraulic excavators.
For the cold planers, Britton said there are some cool features he likes to call attention to.
One is the replaceable skid shows.
"These are absolutely designed to be on the ground dragging across the asphalt and they wear out," he said. "That's the nature of them, so we had to make them serviceable and easy to replace."
Also, the new planers come standard with a cut depth indicator, giving the operator a quick view of the set depth. Milling depth is manually adjusted and locked in.
Britton noted that lining up the planer is always a significant issue. Simplifying operation, the PC35 and PC45 reuse existing hammer lines and are equipped with drum center and width indicators.
"When you are on a small paving crew, you typically have a two-person crew, one is operating the machine and the other one is going to be on the ground telling you where to line up," Britton said. "That's a lot of ground depending on your depth and where it's at so as you drive across this as a consumer, you'll know the kind of standard you get down into it. Imagine if that line was all over the place."
He said Cat is trying to help ensure it's a nice clean line, so the lineup indicator is again a very simple but needed feature.
Britton said the most significant feature of the cold planers is on the backside, the MaxPro gauge.
"I'm not a great operator admittedly but that MaxPro gauge tells me how I'm working, can I do better, should I do more? Should I do less? Am I outrunning my gauge? Am I outrunning my cut? Am I cutting exactly where I need to be?"
The gauge reads like a stoplight, with yellow, green, and red sections.
"Yellow means I'm not quite working as hard as it could," Britton said. "If I'm in green, I'm right where I need to be and if I'm in the red, I'm outrunning it."
He said it is like taking a push broom and just running it across the floor.
"If I'm outrunning my broom, there's a kind of a dedicated way you're going to work a push broom," he said. "That's generally the concept that you're going to have here."
From the operator's station, Britton noted that the gauge is very much visible.
Helping to maximize productivity, a standard pressure gauge provides feedback to the operator to allow for ground speed adjustments.
"I can actually make my cut and set my travel speed relative to what is the most efficient way to work this little cold planer," Britton said.
A heavy-duty gear motor provides high torque and efficiency across the speed range, while a hydraulic relief valve limits pressure to the motor for increased longevity.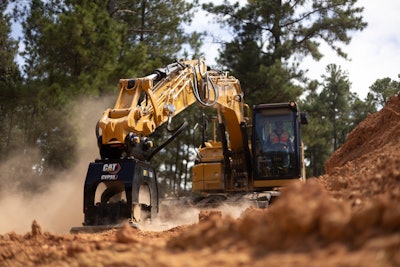 Compact compactors
In the past, Cat only had the CVP16 and the CVP55. The compactors are well suited for the compaction of soil, sand, gravel, and asphalt. Typically, they offer a lower investment and maintenance cost for contractors engaging in residential, commercial, and industrial work.
However, like the cold planers, Britton said there was not a good fit for the 305 to 306 machines.
"If you're a contractor and you're putting utilities in the ground, you need to get in, drop the utility and you need to get out," he said. "It's pretty simple. You don't want to make two passes. Every time you make another pass is another ounce of fuel burned and another waste of good time."
The new lineup will include the enhanced versions of the CVP16 and CVP40 and the new CVP28 and CVP55.
"Coming on board we've got the CVP 28 which is really kind of where we think the volume products will be," Britton said.
The range of CVP attachments is performance-matched to Cat machines, covering all backhoe loaders and excavators ranging from the Cat 302.7 to the 313. They offer compaction widths from 304.8 mm (12 in) to 660.4 mm (26 in) and compact areas ranging from 0.19 m2 (2 ft2) to 0.53 m2 (5.7 ft2) at vibration frequencies from 33.3 to 40 Hz (2,000 to 2,400 vpm).
"These line up quite nicely with an 18-in. width or a 30-in. width," Britton said. "The width is not as wide as the trench, so I get in and get out and move on and it just makes it more efficient than having to make two passes."
Delivering best-in-class performance, optimizing compaction frequency combines with force to drive material particles close together for solid, stable compaction.
The compact attachments are designed with heavy-duty steel frames to help deliver maximum power to the ground. Simplified with standard auxiliary hydraulics, the access cutouts are laser cut to provide easy access to hardware when mounting the top bracket.
The high-efficiency gear-type hydro motor is vibration driven for consistent, reliable power. In addition, Cat says access cutouts are laser cut for easy access to hardware when mounting the top bracket, and the
compactor is simplified with standard auxiliary hydraulics.
Additionally, rubber mounts isolate vibrations from the compactor attachment, minimizing vibration feedback to the rest of the machine.
Expanding the flexibility of the CVP attachments, Britton said a post and plate driver attachments bolt to the bottom of the CVP28 for specialized applications.
All models can be equipped with a backfill blade.
"If you're working with a fairly bad backfill trench guy that really doesn't know what he's doing on the skid steer and he just dumps a bunch of gravel on you, instead of trying to sacrifice your plate you do have an optional backfill blade so you can kind of spread that material out before you start packing and again making the most use of the material you're putting in the ground," Britton said.
Also, he said a swivel mount that rotates 90 degrees in each direction helps minimizes machine movements.