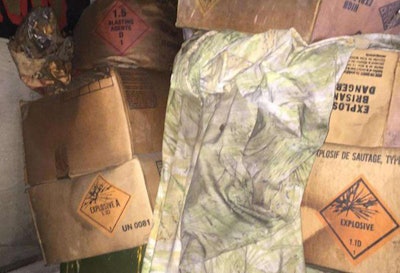 After a cleaning crew found 25­-year-old, unstable dynamite in a construction company warehouse in Boxborough, Mass., last month, police were called to the location.
According to the Lowell Sun, the warehouse was the former home of a now­-defunct construction company, so the discovery was not considered to be suspicious.
Since getting rid of unstable dynamite is not what their typical day looks like, the police called in backup.
"We called the real professionals from the state police Fire and Explosives Unit and they came out and assisted," Lt. Warren O'Brien said. They decided to take the explosives to an active construction site where they had been blasting so the dynamite could be destroyed in a controlled environment.
The Boxborough Highway Department supplied a dump truck full of sand to safely transport it to the construction site. Troopers and police then dug holes, buried the dynamite, and destroyed it with a controlled detonation that was captured on video.
Boxboro police discover dynamite, detonate it at construction siteRead more: http://www.lowellsun.com/breakingnews/ci_29264016

Posted by The Sun News on Wednesday, December 16, 2015