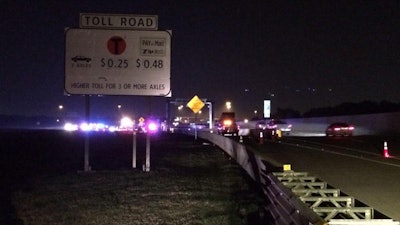 A highway construction worker was killed earlier this week while working on the President George Bush Turnpike in Grand Prairie, Texas.
Investigators told NBCDFW.com that a construction convoy consisting of a large truck with a large blinking arrow and a pickup truck carrying a trailer, with one construction worker onboard, was going at a very slow speed on the shoulder. The worker riding in the trailer was putting reflective markers on the road.
A Chevrolet Impala hit the truck with the trailer, instantly killing Camerino Sixtos, 41, who was putting out the reflective markers.
Hours after the crash, police arrested Francisco Castillo, 24, and charged him with two counts of felony to stop and render aid, according to Fox 4 TV in Dallas. Castillo was treated for injuries sustained during the class but was soon released and booked into the Dallas County Jail, according to the Fox 4 report.
After the Impala hit the truck and trailer, it went across three lanes and hit another construction vehicle. Castillo and one other person inside the Impala allegedly exited the vehicle and fled the scene in another vehicle that wasn't involved in the crash.