By Amy Materson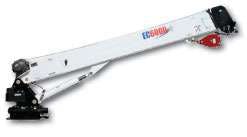 UPLIFTING
Stellar Industries' 6,000-pound capacity EC6000 crane is rated at 38,000 foot-pounds and offers a 21-foot hydraulic and manual boom reach. The crane has a short 11.4-foot stowed length and a 34.41-inch low profile design to fit behind the chassis cab. The crane features a piggy-back boom design to provide strength, and features a radio remote control. A true worm gear rotation uses a high-strength steel ball bearing turntable gear and steel worm gear, as well as cast steel housing. The planetary winch system has a 2.5-horsepower permanent magnet electric motor to make sure the winch continues to lift to the crane's full capacity. Environmentally friendly hydraulic oil is non-toxic, non-carcinogenic, recyclable and biodegradable.
Visit EquipmentWorld.com/info
Editor's Pick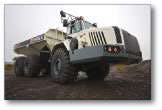 ABLE ARTIC
Achieve travel speeds of up to 37.3 mph while maintaining comfort with Terex's TA400 articulated truck, which features a four-bar trailing arm suspension system. The truck, useful for quarries as well as road construction projects, has a 41.9-ton payload capacity and a 30.3-cubic-yard heaped capacity. The 450-horsepower TA400 features a maximum torque of 1,548 foot-pounds at 2,100 rpm, and has six forward gears, one reverse gear and a two-speed drop box. The truck comes equipped with oil cooled wet-disc brakes, and all axles are locked in permanent 6×6 all-wheel drive. To ensure easy maintenance, the TA400 has an electric opening hood, wide platforms on each side of the engine and ground level access to components. The ergonomic cab has an updated interior with reduced noise levels, logically grouped instrumentation, improved temperature control and a high quality sound system. A standard computerized CAN-bus system transmits data via satellite almost anywhere to ensure the TA400 operates at maximum efficiency levels.
Visit EquipmentWorld.com/info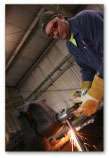 SIGHT SAVER
Experience comfort and protection when cutting or brazing with Miller Electric's Arc Armor safety glasses, available in a choice of clear or shade 5.0 lenses and three frame colors. Orbital eye coverage and rubber ear pads reduce pain and facial discomfort even with extended usage. The shatter-proof polycarbonate lenses have an anti-scratch coating, and foam eye guards keep dust and perspiration away from eyes. The shade 5.0 lenses have a reflective outer coating to protect against ultraviolet light when plasma or oxy-fuel cutting.
Visit EquipmentWorld.com/info
NOISE NEUTRALIZER
Ensure comfort and convenience when using hearing protection with the Zip-Outs system from StreamWorks Products Group. The zip-out/zip-in tethering system attaches ear plugs directly to all types of hard hats and is available in either PermaPlug hard permanent or DuraFoam soft plugs. The system installs quickly and offers easy removal for replacement or cleaning.
Visit EquipmentWorld.com/info
PUSH IT
Pull on or push off loads with Landoll's chain drive power-on power-off system, which is useful for containers and light equipment. Available for the Model 330 traveling axle container trailer line, the system includes a container pull chain bridle, chain connector with a ½-inch grab hook and a "dozer" push blade for pushing a container rearward or over curbs and sidewalks. The bridle features a twist plate that locks into the corner castings.
Visit EquipmentWorld.com/info
VANQUISH VIBRATION
Improve stability and operator comfort with Bridgestone Americas Off Road Tire's V-Steel J-Traction radial off-road tire, which has a computer-optimized center block that minimizes vibration levels. The VJThas reduced friction between the center blocks and the ground, which improves wear resistance and extends the life of the tire. The VJT also enhances traction through a noVn-directional tread pattern and a self-cleaning tread design, and the sidewall design reduces cuts under heavy loads.
Visit EquipmentWorld.com/info

UNDER CONTROL
Eliminate idling times and reduce fuel costs with VMAC's Advanced Underhood Air Compressor System, which has a digital control system that turns the truck on and off as air is needed. The system disables and enables the clutch and engine as required. The compressor produces 70 cfm and 175 psi, and includes remote control plug-in capability and a USB port for collecting diagnostic data.
Visit EquipmentWorld.com/info
EASY TO TOW
Avoid trailering with Extend Manufacturing's TMX Towable Mini-Excavator, which can be hooked behind a standard ½-ton pickup, and features lockout drive hubs for towing at highway speeds. The 1.5-ton class TMX has an 8-foot dig depth, 6,600-pound digging force, 7-foot 2-inch loading height and 140-degree swing radius. A 72-inch, four-way blade system offers efficient backfilling and grading after excavation. The TMX has zero-turn rotation for tight locations, and the drive tires are designed for mud.
Visit EquipmentWorld.com/info