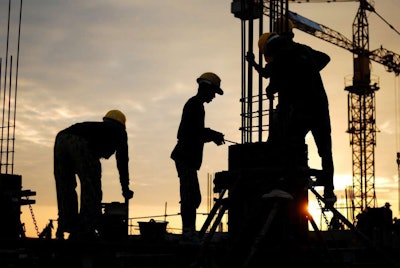 Nearly 4,700 people were killed on the job in 2014, according to preliminary data from the Bureau of Labor Statistics, with the construction industry accounting for nearly one-fifth of those deaths.
The number of construction workers killed on the job increased by 10 percent in 2014 to 874, once again making the industry accountable for the highest number of worker deaths in the country.
Early data from the BLS suggests a total of 4,679 Americans died on the job in 2014.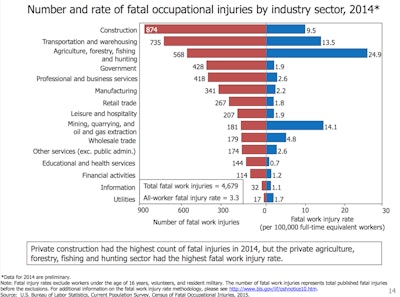 The BLS releases two Census of Fatal Occupational Injuries (CFOI) reports each year: preliminary findings in the Fall and final numbers in the Spring. The CFOI pulls from multiple sources to tally construction deaths and must confirm each one in at least two ways, be it through a morgue report or investigation of the incident itself. The final number of deaths is usually higher than the preliminary report.
Second to construction in 2014 was the transportation and warehousing industry, accounting for 735 deaths, followed by Agriculture (which includes forestry, fishing and hunting) at 568.
Construction's death figure amounts to a worker death rate of 9.5 per 100,000, placing it as the fourth deadliest industry in the U.S. behind Agriculture, Mining (which includes quarrying and oil/gas extraction), and Transportation.
The leading cause of death in 2014 among construction workers, as has been the case for years, was falling, killing 349 workers.
Second to falls were transportation incidents at 231. These incidents typically involve vehicles in a highway work zone. Finally, exposure to harmful substances or environments killed 120 construction workers, followed by contact with objects and equipment at 114.
Roofing was the deadliest craft among construction workers, claiming the lives of 81 workers in 2014. That was followed by electrical work at 78, plumbing, heating and cooling at 62 and highway work at 61.
A total 206 jobsite laborers were killed in 2014 along with 38 equipment operators, according to the preliminary data.