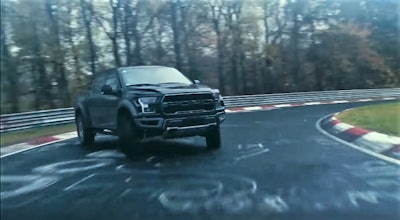 Drift master and father of the Ford Mustang RTR Vaughn Gittin Jr. recently made a trip to Germany to drive the Nürburgring. But, as he explains in the extremely entertaining video below, it rained the day of the drive and, "drifting in the rain," Gittin Jr. says, "is boring."
So, he decided to do something decidedly not boring and opted for a hot lap around the world famous track "the fun way": in a 2018 Ford F-150 Raptor that just happened to be handy.
The result is the off-road pickup doing things it and its all-terrain tires don't often get to do, namely, drifting through paved hairpin corners and maneuvering through serpentine stretches of track. To its credit, the stock Raptor handles it all with aplomb. Check out the video below.