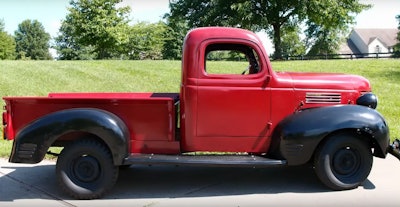 Hmmm…what would happen if you take a 1939 Dodge pickup and convert into an electric daily driver?
A whole lot of fun, according to Al Gajda, who after retiring from IBM finally electrified the truck that had been sitting in his garage for nearly 40 years.
"I purchased the truck in New Hampshire in 1973 (or thereabout) for $250," Gajda writes on his YouTube page, alegatorlex. "Using our Chevy Suburban my wife Mindy towed the truck home with me steering the truck. Once we got into our subdivision I jump started the engine. It ran for a few minutes producing a large cloud of blue smoke. That was the last time the engine ran."
No engine, no problem. Gajda, a self-educated engineer of sorts, bought an electric motor from a company in California that specializes in electric auto conversions and used it in place of the six-cylinder flathead, according to Kentucky.com.
A thousand pounds of lithium-ion batteries in the bed provide about 100 miles of range and enough torque to get the truck moving out quickly from any gear of its original 3-speed transmission! He's gotten the truck up to 75mph and he said it would have gone faster, but he eased off the original 1939 Dodge accelerator pedal. Gajda, 76, loves driving the pickup while running errands and dropping his granddaughter off at school in Kentucky. The pickup is a hit at auto shows or even at local parking lots.
"If I park it at Lowe's or Home Depot, there'll be people looking at it when I come back," Gajda explained. "But I usually have to tell them it's electric."
Gajda learned a lot about electric auto conversions on the internet and along the way became a fan of EVTV.ME (Electric Vehicle Television).
"There is a pretty steep learning curve to converting a vehicle to all electric," Gajda writes on his YouTube site. "But it is worth it, the first time you drive your EV down the street!!!"
Gajda offers plenty of advice and encouragement to EV builders through his YouTube videos.