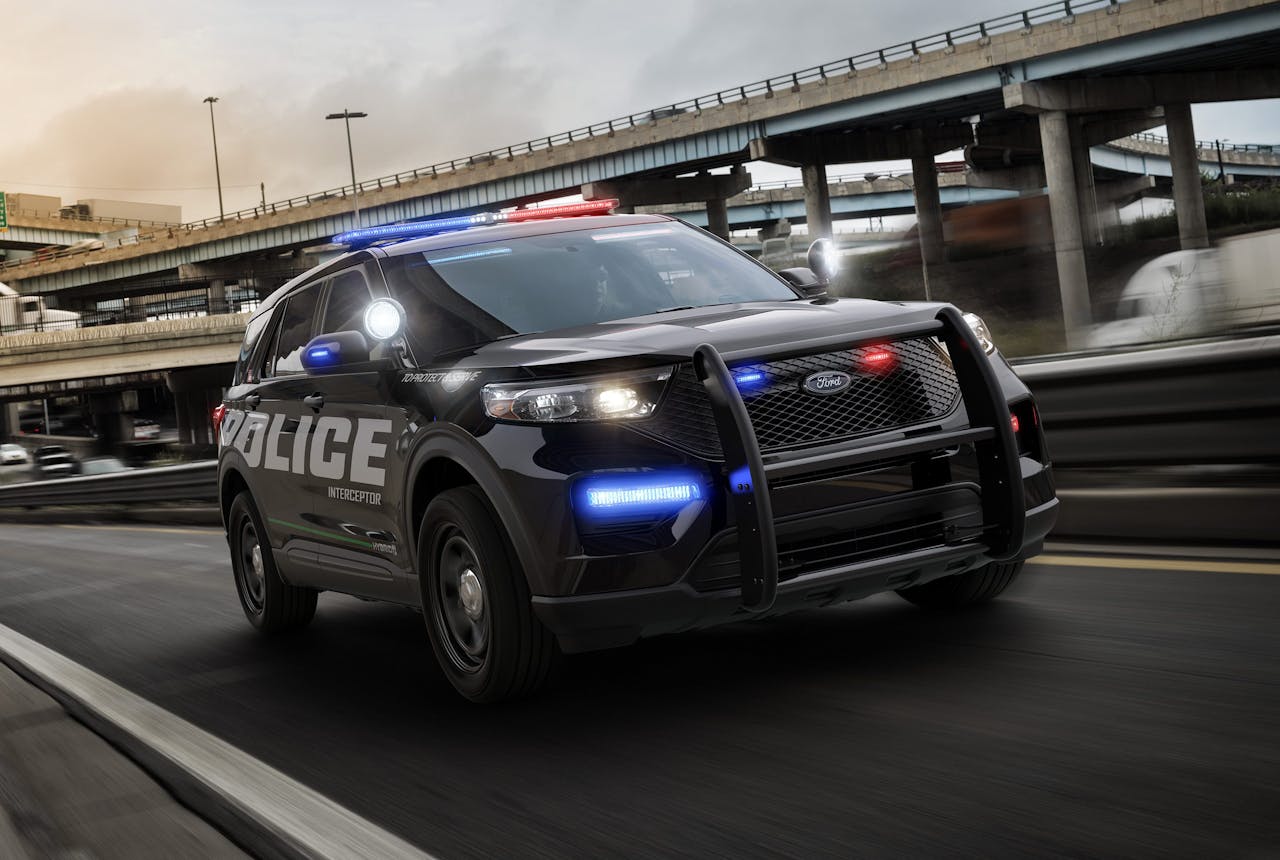 Though Ford's Crown Victoria reigned supreme for many years as the police vehicle of choice, times have changed. In many cities and towns across the U.S., the Dodge Charger has been embraced by law enforcement to the point that a lot of folks go ahead and slow down whenever they see that car's recognizable rear end.
However, Ford says its vehicles still account for nearly two-thirds of all police vehicle sales in the U.S., and, true to its move last year to do away with all but two cars in its lineup, believes that the way forward for pursuit vehicles is the SUV.
Thus, the introduction of the 2020 Police Interceptor Utility, which, thanks to a hybrid powertrain that comes standard, Ford says will save police agencies as much as $5,700 in fuel costs each year over the previous generation Interceptor SUV. The truck is projected to receive an EPA rating of 24 miles per gallon combined.
Ford says that in recent testing by the Michigan State Police, this new Interceptor SUV grabbed the fastest 0-100 mph acceleration, fastest lap, fastest average lap and highest top speed of 137 mph versus police utility vehicles from competing brands, including those powered by V8 engines.
In tests done by the Los Angeles County Sheriff's department, the truck bested the previous generation Interceptor Utility, powered by a 3.7-liter V6, in the 0-60 mph test by 1.1 seconds, and in the 0-100 mph by 4.7 seconds.
Ford says though the SUV is a hybrid, the powertrain's battery system does not compromise the storage by intruding into the cargo area. The automaker adds that the truck will also be available with a 3L EcoBoost V6 and a 3.3L V7. No matter the engine, the Interceptor Utility features a 10-speed automatic transmission and standard full-time all-wheel drive and deep snow/sand traction control mode.
Beyond being equipped with enough power to be a true pursuit vehicle, these trucks also meet high durability and crash standards. Ford says the trucks are engineered to meet a 75-mph rear-impact crash standard and are also designed to withstand eight-inch curb impacts, median crossings, 30-mph railroad crossings, water fording to 18 inches at 15 mph, and 10 inches at 40 mph.
These trucks are also full of technology designed to aid in officer safety:
Police Perimeter Alert: Uses sensors to monitor an approximately 270-degree area around the vehicle. It analyzes nearby movement to detect potentially threatening behavior. When such motion is detected, the system automatically turns on the rear camera, sounds a chime, rolls up the windows and locks the doors. Motion trails of the detected threat appear on the digital instrument cluster so officers can monitor.
Telematics: Ford modem and two years of complimentary Ford Telematics service that enables timely feedback of vehicle usage and location to agency fleet managers.
Available options include:
Pre-Collision Assist with automatic emergency braking, which features Pedestrian Detection and forward collision warning. A unique disable switch for law enforcement allows officers to temporarily override the system to perform precision immobilization technique maneuvers when necessary.
Rear Camera On-Demand: Allows officers to view behind the vehicle at the touch of a button, and a host of factory-installed and factory-sealed wiring and lighting packages that offer agencies turnkey solutions.
Launching later this year, the 2020 Police Interceptor Utility lineup will include a Police Responder Hybrid Sedan, an F-150 Police Responder, the Expedtion SSV, F-150 SSV and the SSV Plug-in Hybrid Sedan.