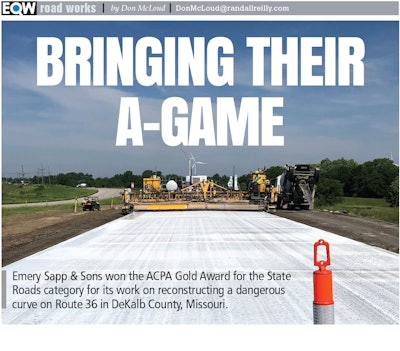 Winning a roadbuilding contract often comes down to who has the lowest bid.
But achieving the kind of quality, innovation and ingenuity it takes to become an industry standout requires much more than the ability to shave costs.
In speaking with some of the winners of the 2019 Excellence in Concrete Pavements Awards, we found some common qualities contractors brought to their projects that made them worthy of national recognition. The awards, sponsored each year by the American Concrete Pavement Association, are designed to encourage quality and creativity within the industry.
For some of the winners, those qualities also led to bonus money on their projects and the development of innovate ways to meet tight deadlines, as well as help advance concrete paving methods for future road projects in their states and nationally.
Without fail, all of the paving companies said that, ultimately, pride in their work was the driving force.
"We get this work by being the low bid," says Craig Hughes, vice president of operations for award-winner Cedar Valley Corporation, "but we've got to build it the best we can to garner the incentives we can because it makes us more competitive in the field. And it's just a matter of 'look, we're here to do it, let's do it right, let's do it the best we can.'"
Keeping material flowing
Making sure it had enough material to keep its pavers running was a major concern of Cedar Valley when it was hired as a subcontractor for the last phase of the $75 million project to complete the long-awaited U.S. Highway 20 across northern Iowa.
The Iowa Department of Transportation required an accelerated time frame. With 552,000 square yards of concrete for Cedar Valley to apply and three contractors working in a small geographic area on the various phases of the project, the continuous demand for material was more than producers could keep up with. Cedar Valley also was responsible for 44 miles of alternate-bid concrete shoulders of 4 feet wide and 6 inches deep, as well as 19 crossovers and 42 turn lanes.

"I think every contractor on the corridor over that period of about three years ran out of materials at some point in time," says Hughes.
The 47-year-old company based in Waterloo, Iowa, had completed a paving project of more than 1 million square yards two years before and had also paved another large section of U.S. 20. So it knew what was in store if it didn't start lining up materials well in advance – nearly a year ahead of paving.
"Part of the problem we had was even the material producers didn't quite grasp the volume of material that would be needed in such a short period of time," Hughes says. "After many meetings with these folks, we determined we need to get all we can in a pile ahead of time because they're going to run out. And that's pretty much what happened."
So Cedar Valley began stockpiling concrete aggregate at a central mix plant on the project site. There was only one main supplier in the area, and it was getting its material from three other sources to try to meet demand.
The company managed to accumulate 30,000 tons of material at one point.
"Even with all the work we did ahead of time – we never ran out of materials – but we ran into a pretty fair slowdown because of a lack of materials," Hughes says, "and had to change up the way we were building the job because of it."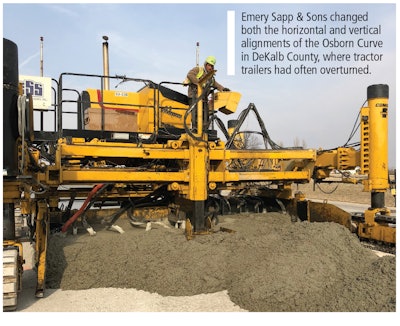 To reduce the material demand enough so producers could catch up, the company would pause its mainline paving at the midpoint each year and go to paving the side roads, shoulders, intersections and turn lanes. That allowed the company to rebuild its stockpiles yet also keep the project on schedule. The effect of Iowa's wet weather on the project was also mitigated because the company already had a paved section from the plant on site to the side work.
Not only did Cedar Valley meet the schedule for the project, it also racked up three bonuses: for pavement smoothness, thickness and mix quality.
The stockpiling played a role in those bonuses, especially for the smoothness, Hughes says. That's because having slow delivery of materials or running out of materials hurts the mix quality and prevents a continuous paving flow, which affects smoothness.
Ready to innovate
Cedar Valley prides itself on being at the forefront of pavement smoothness in Iowa. On this project, it was involved in two programs by the Federal Highway Administration that will likely play a role in future roadbuilding in the state and the country.
The company had received a GOMACO Smoothness Indicator through the FHWA's equipment loan program. The paver-mounted, sonar-based device gives real-time smoothness measurements.
"It tells you how you're doing right behind the paver, so you don't have to wait a day for it to get hard and run behind it with the profilographs," Hughes says. "That was a great learning experience for some of the people on our paving crews and really for all of us."
The company had also approached Iowa State University's National Pavement Technology Center about the project.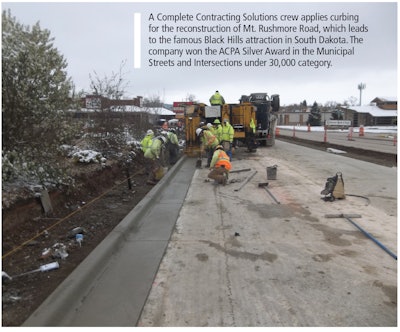 "We approached them and said, 'You're never going to have more concrete paving going on this close to the university,'" Hughes says. "'What can we do to learn more about it, since we're right in your backyard?'"
So the FHWA set up a mobile unit on site for testing the durability of concrete materials on the project, such as aggregate, cement and fly ash. Some of those tests were new to the state.
Hughes believes the company's involvement in the testing also helped motivate its workers. "It showed our people that there was a high degree of interest in quality from not just us at Cedar Valley or the state of Iowa, that it was something that is recognized nationally," he says. "And I think being able to have our people see people from FHWA out there on the project, watching how they were doing things and doing testing, it really raised the visibility to our crews of just how important that is."
Hughes says concrete smoothness and a job well done are sources of pride for Cedar Valley, especially with its involvement in the U.S. 20 project, the completion of which represents a 60-year goal to connect 302 miles across the state.
"The people that build this stuff – them, their families, the people they know – they know they built that work," he says. "And when it's smoother pavement, and you can tell you're driving on one of the smoother pavements that Cedar Valley built versus some of the other ones, a certain measure of pride goes into it."
Saving money, time fixing dangerous curve
Emery Sapp & Sons had a deadline of 110 calendar days to rebuild a dangerous curve on Route 36 at its intersection with Route 33 in DeKalb County, Missouri.
For drivers traveling left, the curve as it was originally built would cause vehicles to lean to the right, the opposite of what should occur.
"For years tractor trailers would turn over – on average about one to two a month," says Donnie Stevenson, project manager for Missouri-based Emery Sapp & Sons.
"We went in and not only removed the pavement but regraded that entire section to change the profile of the curve," he says. The company also added turn lanes at the interchange.
Emery Sapp started the project early in March with a goal of being finished before summer when a local racetrack draws heavy traffic. During the second weekend of work, a large snowstorm came through the area, causing the company to reassess its decision to start so early in the year.

But the company saw an opportunity to save time and money and give the Missouri Department of Transportation a testing ground for a relatively new process for the state: using asphalt milled onsite as a base for a concrete pavement.
Most roads in Missouri have only a 4-inch overlay, which doesn't leave much to mill off, Stevenson explains. "On this one, we found that between the overlays and the original road, there were some areas where the asphalt was up to 12 inches thick. We had a huge volume of material."
"Had we not used this material, we would have had to haul all those millings offsite to waste and then bring in rock to replace it," Stevenson says. "Instead we milled it and stockpiled it onsite and then just put it right back down under the concrete."
Since this is not a common practice in Missouri, the MoDOT worked closely with Emery Sapp to develop a test method to ensure proper compaction. Standard nuclear density testing normally performed on base rock wouldn't work on asphalt millings. Instead, they used a cone penetrometer. They determined a rolling pattern of three passes with a 20-ton roller achieved the proper compaction. They then wheel-rolled the surface with a loaded truck to verify the correct compaction had been achieved.
For rebuilding the curve, the company used Trimble GPS 3D machine control on its equipment, from the dozers up. Stevenson says the company has been using GPS control for about 15 years.
"We stay up to date with our equipment," he says. "We run state-of-the-art machinery and all grade control. We invest heavily back into our fleet."
It hauled in all the dirt using 40-yard pans pulled by Cat 740 trucks. The company changed the .75-mile curve's horizontal and vertical alignments. It also installed 2,500 linear feet of storm drainage, as well as new signs and pavement markings. The company managed this while directing all traffic to the major thoroughfare's two eastbound lanes.
Due to its decision to mill the existing asphalt, the company finished the project in 88 days – 22 days ahead of schedule. It also won some bragging rights for the concrete industry.
"We're a concrete paving company and this was actually a contract that was tied to two other contracts. Those contracts were large asphalt overlay jobs," he says. "It was kind of nice to have our concrete paving project smack in the middle of two asphalt projects."
Paving the way to national treasure
Mt. Rushmore is a popular destination for 3 million people a year and a crucial economic engine for merchants in Rapid City, South Dakota. So anything that disrupts that flow of commerce is bound to cause an uproar. For a paving contractor, time is of the essence.
Well aware of that sentiment, Complete Contracting Solutions of Rapid City took on the project of reconstructing the five-lane Mt. Rushmore Road, which had an asphalt overlay.
The biggest obstacle was dealing with the local and tourist traffic, says Dave Buck, engineer/estimator for Complete Contracting.
The project involved public outreach with weekly meetings letting the public and merchants know every step of the way. The company used a variety of methods to keep traffic flowing with as few disruptions as possible.
It persuaded the South Dakota Department of Transportation to allow it to combine some of the project's five phases, rather than having to complete one phase before moving to the next one. "They liked the idea," Buck says. "So we combined a couple of different phases and probably saved a good four to five weeks of working time."
Being a high-profile project, DOT inspectors were onsite each day. "Every day we had two to three inspectors watching over your shoulder every step of the way," he says. "And with the amount of traffic that would go through there on a daily basis, every morning, we'd have our 5-minute safety briefing with all the guys just to keep in their minds to be aware of their surroundings and traffic and watch where you're walking."
The project also had some special features, including decorative, colored and stamped medians; colored and patterned retaining walls; colored and stamped sidewalks; and colored ADA ramps at each intersection. The new concrete thoroughfare now has two northbound and southbound lanes as well as dedicated turn lanes at each intersection.
When it was done, Complete Contracting had finished ahead of schedule.
"Overall, our guys and our team of subcontractors did an awesome job," Buck says. "We got some incentive for getting it done early."
There were also no safety incidents.
"It was a home run in my book," he says.