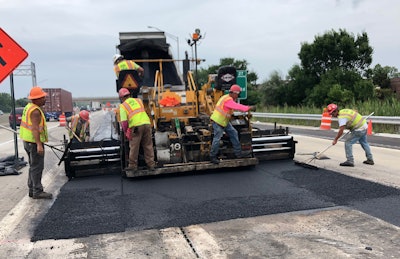 The National Asphalt Pavement Association reports that the use of recycled asphalt has reached record levels.
According to a recently released NAPA survey, the average amount of reclaimed asphalt in new pavements during 2018 was 21.1 percent, the highest level reported since the survey, conducted in partnership with the Federal Highway Administration, began in 2009.
According to the survey, more than 85 million tons of recycled materials were used in new asphalt pavement mixtures in 2018, a 7.6 percent increase from 2017. Recycled asphalt pavement (RAP) made up most of the recycled material, at 82 million tons, followed by 1 million tons of recycled asphalt shingles (RAS).
"The use of RAP and RAS alone resulted in cost savings of more than $2.9 billion compared to the use of virgin materials," NAPA says.
"Over the years, we've seen steady advancement in the amount of RAP being used across the country," says NAPA President and CEO Audrey Copeland.
She attributes the increase to engineering efforts by industry and road owners to research and apply best practices. She also says more research is needed into using other recycled materials in paving.
"As interest grows in incorporating other recycled materials into pavements," she says, "we must continue to gain a solid understanding of how new materials affect pavement performance before we move to widespread deployment."