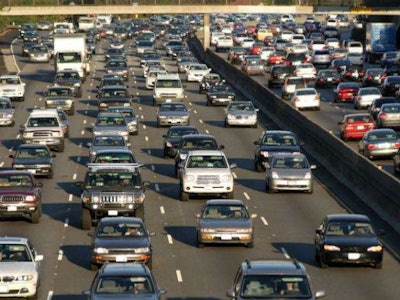 New data from the National Safety Council reveals that the number of motor vehicles deaths in America are up 14 percent through the first six months of 2015. That's a jump of 18,630 deaths compared to 2014.
On top of that, injuries from traffic accidents are up by more than 30 percent compared to last year.
"As a safety professional, it's not just disappointing but heartbreaking to see the numbers trending in the wrong direction," NSC president Deborah Hersman told the Associated Press.
The upward trend is also incredibly costly. There was $152 billon in damage from vehicle accidents the first half of the year—a 24 percent bump from last year.
The NSC credited some of the increase on the fact that gas prices are a solid 30 percent lower this year than a year ago, in addition to a shrinking unemployment rate.
Hersman also said that the increase could be contributed to more and more distracted drivers using their cell phones and other devices.
"For many years people have said, 'If distraction is such a big issue, why don't we see an increase in fatal crash numbers?' Well, we're seeing increasing fatal crashes numbers, but I think it's complicated to tease out what that is due to," Hersman said.
The NSC also recommended drivers take the following steps to stay safe:
Make sure every passenger buckles up on every trip
Designate an alcohol and drug-free driver or arranging alternate transportation
Get plenty of sleep and taking regular breaks to avoid fatigue
Never use a cell phone behind the wheel, even hands-free
Stay engaged in teens' driving habits. Teens are three times as likely to crash as more experienced drivers.
Learn about your vehicle's safety systems and how to use them. My Car Does What can help drivers understand the ins and outs of features such as adaptive cruise control, blind spot warning systems and backup cameras.