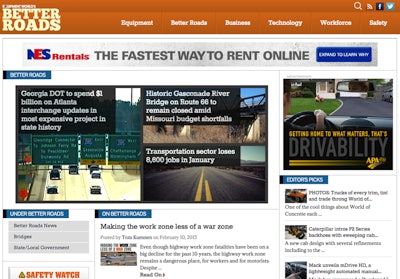 For those who frequent this site, it's a change you have probably already noticed. But just in case you haven't, or in the case that you're new here, I did want to drop a quick note to highlight our recent integration of the highly-regarded and former sister site Better Roads.
On February 2, the Better Roads website was closed and the betterroads.com domain now redirects to the new Better Roads category page here at equipmentworld.com. All of the content housed on the former Better Roads site made the transition to Equipment World so if you're a BR regular and you're looking for a specific article you saw on the old site, you'll still be able to find it here with a quick search. Just click the magnifying glass in the right corner of the site's navigation bar, just above what you're reading.
By bringing in the Better Roads content, we've expanded our coverage here at Equipment World greatly. We'll have all of the great transportation sector coverage you've come to expect from Better Roads, including road building, bridge, DOT and policy coverage.
With the integration, everything should be easier to find and, moving forward, you can expect even more coverage. In addition to the entire Equipment World staff now contributing to the Better Roads beat, we'll soon have two reporters whose primary focus is covering the transortation/road building beat.
We're excited to welcome our friends at Better Roads to their new home, but we're even more excited to welcome new readers with the promise that things are only getting better from here on out.
Finally, some housekeeping:
The Better Roads Twitter account will not be shut down and you can actually expect a bit more activity there once we get the account back up and running again. UPDATE: It's back. Give it a follow if you haven't already.
For now you can find transportation and road building news on the Equipment World Twitter account with all of our other construction and heavy equipment headlines:

@Equipment_World

.
The Better Roads daily newsletter is still going out on weekdays. We'll have a sign-up link very soon that we'll add to this page. UPDATE:

You can sign up by clicking here

.
In case you're interested in the effects this integration will have on the print and advertising side, you can check out the official announcement from our parent company Randall-Reilly.
Thanks for reading,
Wayne Grayson
Online editor, equipmentworld.com