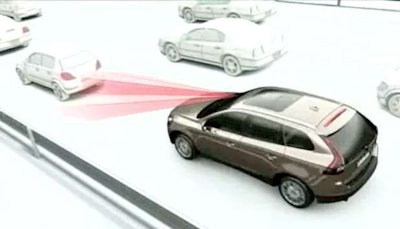 National Highway Traffic Safety Administration (NHTSA) Administrator David Strickland said at a congressional meeting Wednesday that the agency is considering automatic braking as a requirement in vehicles, Automotive News reported.
Automatic braking systems use cameras or radars to detect surrounding objects such as pedestrians or oncoming traffic and apply brakes as needed when the driver fails to do so.
NHTSA already requires cars with electronic stability control to be outfitted with the technology. The new mandate would likely require or suggest all cars include the systems.
A Jalopnik report suggests requiring systems for use in slow-moving traffic, like Volvo's "City Safety" system, that can be turned off when necessary.
The video below offers a demonstration of Volvo's City Safety system.
[youtube 8DBf8GBVmME nolink]
Strickland said NHTSA will do more research on the systems before making a decision about a mandate. The agency is expected to work on a decision later this year.