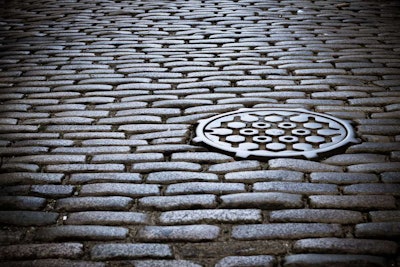 It was Dickens, or maybe Arthur Conan Doyle or Stephen Crane that had me, as a boy, intrigued by cobblestones. I'd never seen them, my hometown wasn't old enough, but they read well. I could hear them under the horses and carriages.
You can see where this going. We are about to run head-on into the old versus the new.
There are two charming, historic neighborhoods that boast aged cobblestones that have seen traffic for more than a hundred years, but now these neighborhoods are in the modern era and cobblestones feel, and ride, like things from the past. These neighborhoods are in New York City and the city is replacing some of the cobblestones to make walking and driving safer, creating easier-to-ride bike paths and doing other upgrades. And the new stones are made to look like the old stones, in the manner of like an antique mahogany etagere than left a factory in China three weeks ago.
A New York Times story — which introduces, at least to me, the phrase "phony urbanism" — reveals how fake cobblestones, cut by machines and lasers to look like the real, old ones, are being moved into the streets of Vinegar Hill and Dumbo.