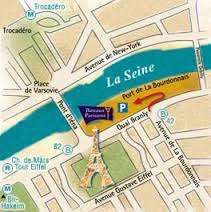 A firm of architects in Paris has come up with an ingenious new bridge design for the City of Light.
Designed as part of a competition, it is an inflatable bridge with a trampoline walkway. The idea seems to be not so much to cross the Seine (there are 37 bridges across the river in Paris) but to have fun doing it, and "experience" the river and the city in an entirely new way. It's a fun bridge, and an idea that makes you smile, and it could be a welcome (but short-term) addition to the experience of Paris. On the other hand I may not be the best judge of this; I still think I.M. Pei's glass pyramid at the doors of The Louvre doesn't work.
So here's a question: what would a firm of New York or Chicago architects (or pick a city) come up with if they were in a competition to cross the East River or the Hudson or the span the Chicago River so that locals and visitors would enjoy the city more?