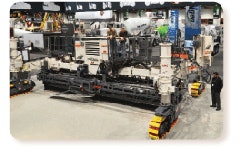 Text INFO to 205-289-3789 or visit www.betterroads.com/info
Wirtgen

Intelligent concrete paver, modular design
Wirtgen's full-lane-width SP 80i concrete slipform paver was introduced to North America at World of Concrete 2013. The "i" stands for "intelligent" power and emissions control systems. The paver's modular design permits different configurations. It can be set up as an offset SP 81i for very large sections, or as an inset paver with two-tracks (SP 82i) or four-tracks (SP 84i). Any model can be reconfigured into another with the right options. The fully modular inset mold system permits paving of concrete slabs with central crown from 12- to 26-feet-wide. Concrete can be spread by a spreading plow or spreading auger. www.wirtgenamerica.com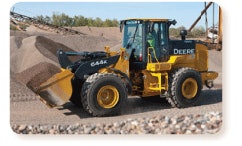 John Deere

Diesel-electric hyrbid loader
John Deere Forestry and Construction showcased its new 644K Hybrid wheel loader at February's World of Concrete show. The loader captures regenerated energy (from both diesel and electric sources) as it's being created and uses it to help power the machine.It has four operating speed ranges, but no reverse gear or clutches as direction changes are performed by the electric motor. The generator is brushless and converts the rotational energy from the engine into three-phase alternating current (AC). The water-cooled inverter is a solid-state electronic system that delivers electrical energy to the motor. The single electric motor is also brushless and converts three-phase (AC) back to rotational energy and torque. It replaces the job of a torque convertor, but can also work as a generator to recycle energy back into the system. For an exclusive interview with Deere's John Chesterman on this machine, go to https://www.youtube.com/watch?v=kyT6U_0YD_M
Blastrac

Ride-on milling/sawing machine
The Blastrac BMP-4000 introduced at World of Concrete is a new heavy-duty ride-on sawing and milling machine suited for large applications such as road construction. The machine is equipped for cutting, removing and sawing of concrete, asphalt and natural stone surface to a depth of 2.36 inches with sawing and 2.5 inches of milling. By changing the hydraulic motor, the milling and sawing technology can be easily swapped. The machine has a double hydraulic micrometric adjustment to set the working depth to work precisely and eliminate the risk of underground deterioration. www.blastrac.com
John Deere
Flat floor design, operator choices
John Deere Forestry and Construction new E-Series line includes five skid steer models and four new compact track loaders (CTLs), each with Interim Tier Four or Final Tier Four engines. The large-frame skid steers and CTLs feature a flat floor design with 25 percent more foot room than previous models. All models in the line include low-effort electro-hydraulic (EH) controls for additional comfort and ease of operation. The EH controls are available for ISO, H, and foot control patterns. Operator can switch between all three control patterns. Another new standard feature is connect-under-pressure auxiliary hydraulic couplers. Exclusive interview on the new E-Series skid steers at http://youtube/2wmg3yJywXs. Exclusive interview on G-Series CTLs at https://www.youtu.be.com/watch?v=JNEI6Yu_AIE.
Dexter + Chaney
Project management software
Dexter + Chaney rolled out its Spectrum Project Management system at World of Concrete. The new software integrates its Plan Room and Spectrum Accounting software. The system is cloud-based, requiring no software downloads and is accessible from any device with a web browser. The application covers numerous functions, including job cost and progress reporting, project logging, submittal and RFI tracking, and project document storage and sharing.The system essentially builds pictures of project status by combining financial and field information, managing people and documents and tracking workflow from a single project log screen. A daily work journal with photos in PDF format can be formed, creating a project document. For more extensive coverage, including an exclusive interview with John Chaney, go to http://www.betterroads.com/?p=24759.
www.dexterchaney.com/project-management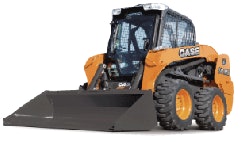 Case
Skid steers meet Tier 4 Final
Case Construction Equipment's Alpha Series lines of skid steer loaders now meet Tier 4 Final emission standards The SR175 and SV185 medium-frame skid steers use new engine technology and a diesel oxidation catalyst (DOC) solution. The SR130 and new SR160 compact frame skid steers meet Tier 4 Final status using the more typical cooled exhaust gas recirculation (EGR) with diesel particulate filter (DPF). The SR175 has a 21-percent higher peak torque rise at 1,800 rpm compared to the previous model, and goes from 60 to 67 gross horsepower, a 12-percent increase. The SV185 remains at 60 gross horsepower, but it has 7 percent more torque than the previous version. Operators can now increase the machines' rated operating capacities by a hundred pounds — to 1,850 pounds for the SR175 and 1,950 pounds for the SV185 — with optional counterweights. www.case.com
Terex Bid-Well
A wide workbridge
The Terex Bid-Well 2418 workbridge offers a 24-inch-wide walkway over its 18-inch deep truss frame. With 3-, 6- and 12-foot truss insert segments, the workbridge can meet operating widths up to a maximum of 105 feet. The 2418's boom-style is all-welded construction with a stable frame at extended widths. It also snaps together to eliminate nut-and-bolt connections. An optional screw-jack leg design enables workbridge height to be quickly raised and lowered. For bridge work, the 2418 can be equipped with either concave wheels for riding on screed pipe or pneumatic tires for use on highway or roadway applications. Its telescoping end segments offer up to 10 feet of leg travel – from 15 feet retracted to 25 feet extended – to each side of the workbridge, enabling it to adapt to flaring deck widths. www.terex.com
Bobcat
More and more choices
Bobcat introduced its 500 frame-size skid-steer and compact track loaders (CTLs) with cab-forward design at World of Concrete. New machines include the S510, S530, S550, S570 and S590 skid-steer loaders, and the T550 and T590 compact track loaders. The S510, S550 and T550 feature a radius lift path, providing operators the reach and visibility they require for dumping over a wall, backfilling or loading flatbed trucks. The S530, S570, S590 and T590 models feature a vertical lift path, providing operators the ability to lift heavier loads higher. The M-Series vertical lift path machines feature an increased lift height over the equivalent K-Series models. Operators choose between standard foot pedal hydraulic controls, the Advanced Control System (ACS) or the Selectable Joystick Controls (SJC). For an exclusive interview with Mike Fitzgerald of Bobcat, go to http://youtu.be/yUIzeZg008w. www.bobcat.com
Holcim
Should you pour if it pours?
Quickly determine if the weather on your jobsite will contribute to plastic shrinkage cracking with Holcim's weather APP, launched at World of Concrete. The app is free from the Apple or Android app stores or weatherapp.us. It is designed to assist ready mix customers and concrete contractors plan according to a four-day forecast of a jobsites weather conditions, and uses ACI 305 methods to determine if conditions are favorable for pouring concrete. Using a smartphone, tablet or desktop computer by city name, airport code or postal code, the app not only displays weather conditions but also calculates the evaporation rate based on wind speed, relative humidity, air temperature and concrete temperature. For more coverage, go to http://www.betterroads.com/holcims-new-weatherapp-helps-you-decide-when-to-pour/.
Topcon
Signal tracking and processing
Topcon Positioning Systems' HiPer V, launched at World of Concrete, is an upgrade to the HiPer 2 site receiver by adding Topcon's Vanguard GNSS (Global Navigation Satellite System) signal tracking and processing technology. The SR sells for less than $20,000. The HiPer V and HiPer SR pack 226 channels and Universal Tracking. Universal Tracking allows a single receiver channel to select and track any satellite signal automatically. The Vanguard chipset tracks signals from all currently available GPS, GLONASS and Galileo satellites and will track all currently planned satellites as well.The HiPer V and HiPer SR feature a magnesium alloy housing, light weight and long-lasting battery.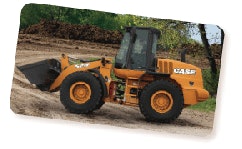 Case
Fuel efficiency boosted
Case Construction Equipment's new 521F wheel loader, introduced at World of Concrete, provides a 12-percent increase in fuel efficiency from the previous E-Series model. The machine is available in standard Z-bar, extended reach and tool-carrier models. Case chose selective catalytic reduction (SCR) technology for the 521F to meet Tier 4 Interim emissions standards based on the machine's application tasks and power demands. The wheel loader offers optional heavy-duty axles with auto-locking front and open rear differentials. On a 50-meter loading and dumping cycle, Case estimates the 521F wheel loader can make up to 56 cycles per hour, moving up to 144 cubic yards or 212 tons of material per hour. www.case.com
Putzmeister
Programmable control system
Putzmeister America's new line of ready mix trucks, launched at World of Concrete, come in two mixer designs – the Pro Series standard ready mix truck and the Bridge Maxx Series with a booster axle. Both mixers are available with a standard 43-inch discharge opening and a 47-inch paver discharge opening for quick operation. The 3/16-inch-thick drum has a 1/4-inch-thick one-piece pressed and dished head that is 78 inches in diameter and made from AR 200 steel with weep holes on the blades for cleaning. Other features include a programmable control system that balances engine speed with hydraulic pump output ; lightweight, durable transmission and fully hydraulic control. See more at www.betterroads.com/?p=24730
Vibco
Vibrators use venturi air system
Vibco's Stik-It concrete vibrator mount, introduced at World of Concrete, attaches to concrete forms without the need to weld, drill, install brackets or perform other invasive work. It uses a venturi air system to create positive suction to tightly secure the vibrator to the concrete form. The mounts work on all types of concrete forms including walls, columns, insulated concrete forms (ICF), precast forms, concrete countertops, lightweight forms including cardboard and polyethylene, architectural/decorative forms. They also work on curved concrete forms such as columns and footings forms. They are also portable and simple to use like a traditional poker-style internal concrete vibrator. For a video of the Vibco Stik-It concrete vibrator mounts, go to http://youtu.be/6L8HMuIZ4eI.) www.vibco.com