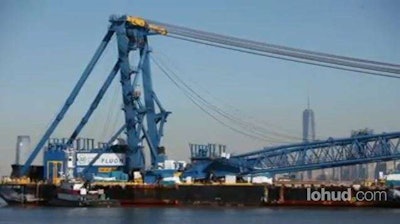 A giant floating crane glided into the New York Harbor on Thursday morning, ready to serve its latest purpose: To help construct the Tappan Zee Bridge, The Journal News reports.
Named for its first job on the San Francisco-Oakland Bay Bridge project, the Left Coast Lifter traveled 6,000 miles from California — even traveling through the Panama Canal — and, after making its way through the New York Harbor, was taken into a Jersey City port to work on the new bridge for the next few months.
Though the crane is well-known for it's work in California, the report notes that Tappan Zee project officials have dubbed it the I Lift New York super crane, according to the report.
The massive crane had to be folded down to travel. Brian Conybeare, special adviser to Governor Andrew Cuomo, told The Journal News that the crane is so large that it would not be able to fit onto a football field.
"It is bigger than a football field and its boom is longer than a football field as well," Conybeare said.
With that kind of size comes great strength as well. The Journal News reports that the crane can lift 12 times the weight of the Statue of Liberty.
The report adds that the crane will also tear down the existing bridge in 2016.