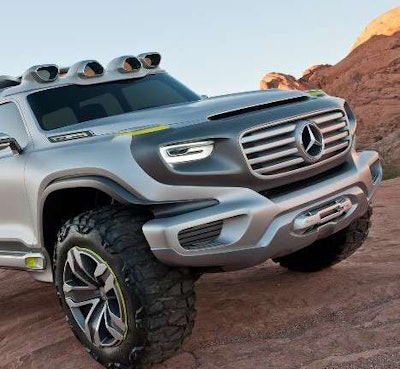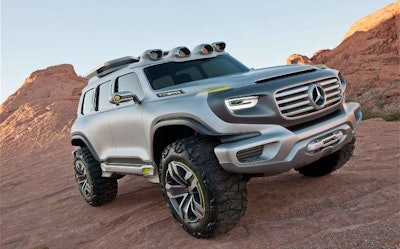 As an entry to the 2012 Los Angeles Auto Show Design Challenge, Mercedes-Benz created the monster you see above — its concept of what the patrol car of 2025 should look like.
The company says the Ener-G Force concept is built off the tank-like design of its G-Class series of SUVs, including the original G-Wagen from 1979. The result is a beautiful, aggressive and overall striking design that lookls a bit like a mashup between the G-Series and Toyota's popular FJ Cruiser.
But the most interesting thing about the Ener-G Force is how it is powered. Now, keep in mind that this is purely a concept and not a working prototype, but while the roof looks like it's simply a storage rack, it actually contains tanks where it stores recycled water. Why? Get this — the roof collects water and converts it to hydrogen to power fuel cells.
The Ener-G Force would have a range of about 500 miles and, because it is powered by hydrogen, Mercedes-Benz says the Ener-G Force would emit nothing but water.
It is a four-wheel-drive vehicle and there are design considerations specifically for law enforcement. The vehicle has very small windows that the carmaker says makes it "a safe coccoon" and emergency lights are built into the roof.
You can see other entries for the patrol car of 2025 here.