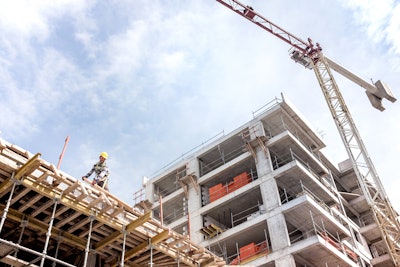 Getty Images
The Dodge Momentum Index (DMI) dropped 5.1% in April to 180.9 from the revised March reading of 190.6.
The commercial component of the index fell 8% in April driven down by slower planning activity in the office, hotel and retail sectors. The institutional component improved by 0.3% as planning activity in healthcare and amusement projects rose, offsetting a decrease in the education sector.
"On par with our expectations, the Dodge Momentum Index continued to recede in April due to declining economic conditions and ongoing banking uncertainty," says Sarah Martin, associate director of forecasting for Dodge Construction Network. "Weaker commercial planning is driving the DMI's decline, as it is more exposed to real-time economic changes than the largely publicly funded institutional segment."
Year over year, the DMI remains 11% higher than in April 2022 with commercial and institutional components up 7% and 17% respectively. The index currently sits 16% below its November 2022 peak.
"This elevation in the momentum index should provide hope that construction activity will return to growth in 2024," said Martin. "However, lending standards for small banks have substantially tightened in reaction to the current banking issues. This could further wane confidence in owners and developers as we continue further into the year."
The DMI is a monthly index that tracks nonresidential building projects in planning, which leads construction spending activity for the sector by a full year.