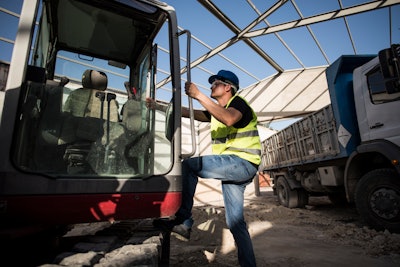 Getty Images
Total construction spending increased by 0.2% in November, dragged down by delays of new infrastructure projects along with a continuing slide in homebuilding, contractors groups say.
Associated General Contractors of America officials said regulatory delays associated with the new Buy America provisions in the Bipartisan Infrastructure Bill and some of the new labor mandates in the Inflation Reduction Act are delaying projects.
"A variety of private nonresidential categories, as well as multifamily projects, posted solid spending gains in November," said Ken Simonson, AGC chief economist. "Many of these segments should continue to do well in 2023. But the timing of public construction, while well-funded, remains unclear."
Not adjusted for inflation, construction spending totaled $1.8 trillion, 0.2% above the October rate and 8.5% above the November 2021 rate.
Further analysis of the data released by the U.S. Census Bureau shows that national nonresidential construction spending grew 0.9% in November to about $930 billion for the month. Spending on private nonresidential construction rose 1.7%, while public construction investment edged down 0.1% in November.
"The average nonresidential contractor starts 2023 with a considerable backlog," said Anirban Basu. Associated Builders and Contractors chief economist. "Not coincidentally, contractors also have significant confidence regarding current year prospects, according to ABC's Construction Confidence Index, which indicates expectations for growth in sales and employment with margins remaining stable."
He said the spending reports suggest that the confidence is warranted but that there are countervailing considerations.
"First, growth in nonresidential construction spending in November was not especially broad.," he said. "Much of the growth came from the manufacturing category, which is partially attributable to construction related to large-scale chip manufacturing facilities."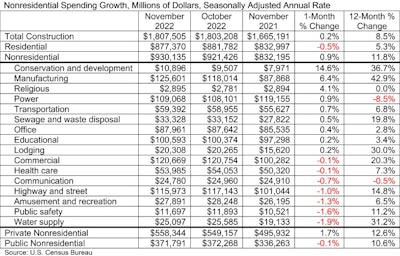 According to reports, among private nonresidential segments, spending on manufacturing plants jumped 6.5% for the month and 43% compared to November 2021. Commercial construction, comprising warehouse, retail and farm construction, was unchanged, while private power construction increased by 1.2% from October. Private health care construction rose 0.1%for the month.
The largest public segment, highway and street construction, decreased by 1% in November. Other infrastructure categories also slipped. Spending declined 0.2% for transportation facilities and 2% for water supply projects. These decreases offset upticks of 0.1% for education construction and 0.3% for sewage and waste disposal construction.
"The balance of growth came mostly from conservation and development, which includes flood control expenditures," Basu said. "Were it not for those two categories, nonresidential construction spending would have been roughly flat in November."
Secondly, the ABC economist noted that the backlog could dry up.
"Anecdotal evidence suggests that banks are more cautious in their lending to the commercial real estate and multifamily segments," he said. "Fears of recession this year remain pervasive in an environment characterized by high and rising interest rates. It will be interesting to see how well backlog will hold up as contractors continue to build and the economy heads toward what is likely to be a Federal Reserve-induced recession."
Residential spending shrank due to a 2.9% contraction from October in single-family homebuilding. That outweighed increases of 2.4% in multifamily construction and 1.3% in additions and renovations to owner-occupied houses.