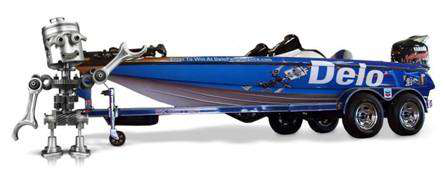 Chevron Lubricants announced the results of its Delo Big Bass Boat Sweepstakes, which ran from August 25 through December 2. Susan Eby of Bumpass, Virginia, was the Grand Prize winner and will receive a fully outfitted 2011 ZX190 Skeeter bass boat.
"We live on a bass lake and my husband loves to fish, so this is a wonderful surprise Christmas gift," said Eby. "Understandably, our grandchildren are also very excited to go for a ride. We want to thank the people at Chevron for adding a little excitement to our holidays."
Other prizes awarded as part of the sweepstakes included an all-expense paid trip to appear on the Honey Hole All Outdoors TV Show, $1000 worth of Delo products and $500 gift certificates to the Fun 'N Sun store.